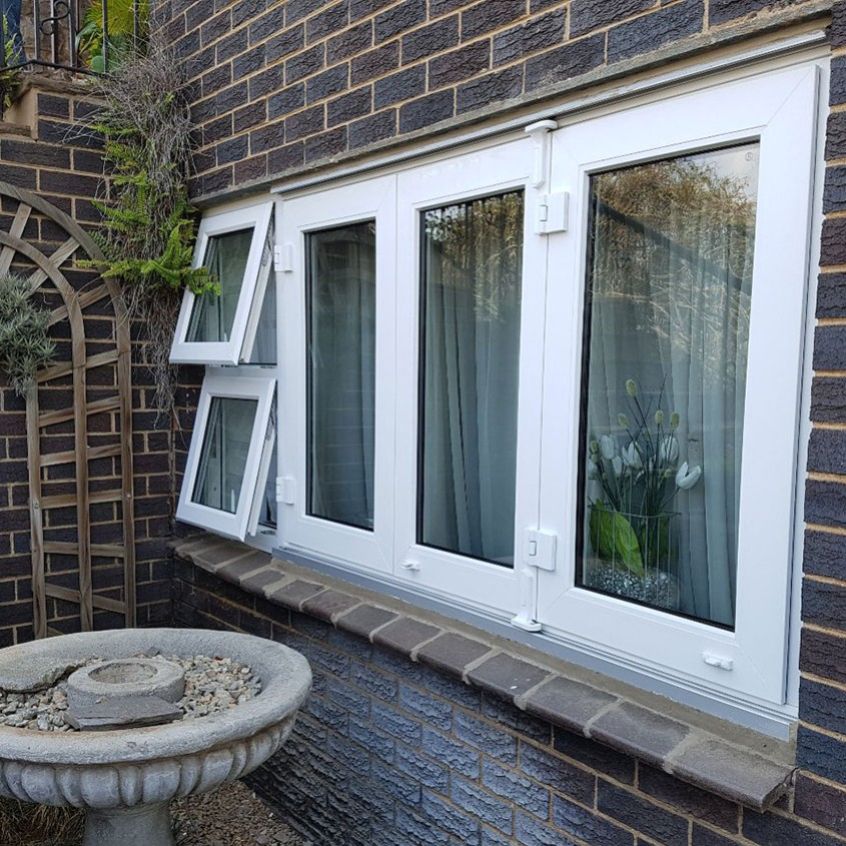 uPVC Top Hung Windows
uPVC top hung windows, specially designed to bring together homes and workplaces with safe fresh air circulation, give buildings an elegant appearance. In terms of ergonomics of use, the opening lever is generally applied from the bottom. While providing ease of use to modern office offices with its wide wing opening, it adds elegance when viewed from the outside. It is applied to the upper part of the wall, bringing the buildings that receive little sunlight together with natural light. With its ease of ventilation, uPVC top hung windows are heavily preferred in bathroom and toilet windows of buildings with top openings. Unpleasant odors that may occur in these areas can be removed from the environment with ease of ventilation by using this window model. It is used by adjusting the clean air intake at the desired rate to the working offices with an outward opening. Again, uPVC top hung windows use reflective glasses to screen the entry of UV rays reflected from the top. At the same time, it can be opened from the bottom at the desired rate, facilitating ventilation. It adds value to commercial offices with its aesthetics and elegant appearance.
Elitech uPVC top hung windows are produced with the use of European profiles and accessories and have superior quality.
Impact and harsh climate resistant Aluminum Doors, Aluminum Windows, Aluminum Sliding Doors, Aluminum Single Doors, Aluminum Folding Windows, Aluminum Side Hung Windows, uPVC Doors, Folding Doors, Single Door, uPVC Windows, uPVC Side Hung Windows, uPVC Sliding Windows, We have Automated Systems, Aluminum Garage Doors, Roller Shutter Door, Frameless Glass Solutions, Balcony Closing System, Frameless Glass Door, Security Doors models. Our different models and designs are very functional and useful. You can spend time in your home in safety and comfort with the steel doors that we produce very safe against theft.
uPVC Top Hung Window Prices
uPVC top hung windows prices, which are produced with the use of the best quality profiles, accessories, glass, and auxiliary equipment, will add value to your budget and your home. Bringing elegance to every place where it is applied, modern windows will complement the aesthetics of your home while providing you with a comfortable use with their practicality. The comfort of opening and closing will turn into a passion with its fun use. As soon as it is closed with its high insulation, it will not allow sound and air circulation.
You can contact an Elitech expert at any time to bring your home or commercial buildings together with the best choice. Prices vary according to the size of the place where the application will be made. Apart from this, special selections to be preferred among many exclusive accessories and glass preferences are effective in determining the price. You can benefit from free measurement, alternative suggestions, and price quotation services for your building. Elitech window is reinforced with a special support sheet and is used without deformation in impacts. When the wing openings, in which the full-length espagnolette locking system is used, are closed, it integrates with special gaskets and provides full closing. It minimizes energy costs with its safety and savings gained by high insulation.
Security
Quality
Insulation
Modern Design
Customer Satisfaction
What are the advantages of PVC Top Hung Windows?
uPVC Top Opening windows provide much healthier ventilation of the spaces with their controlled opening model. These windows, which are generally preferred in small openings in areas such as toilets and bathrooms, are also preferred in large openings for modern architectural projects.
Among the advantages of the uPVC Top Load Window:
It protects the interior from rainwater ingress with its controllable opening setting.
It does not allow unexpected clutter that the wind can create indoors.
The wing opens from the top, providing ease of ventilation
It provides a healthy airflow with its outward adjustable opening.
They have a stylish appearance with their decorative features.
Can be used in small or large opening windows.
There are different models such as brake and semi-automatic.
Trouble-free and noiseless opening and closing
With its long-lasting superiority, it can be used for years without maintenance.
It has easy maintenance
uPVC Top Hung Window Models
Thanks to its elegant profiles that do not obstruct the viewing angle, it provides the most beautiful view and viewing pleasure in every place where it is applied. With its profile and accessory quality, design, and ready-to-use application by a professional team, it brings together the advantages that offer comfort to those who prefer it. The operation of the system takes place with steel hinges that allow the window placed inside the frame to open outwards. Special hinges make it practical to open the desired opening with hand movement. The opening angle is completely left to the user's control. uPVC top hung windows are preferred for their safe use in many areas such as residences and offices, schools and hospitals, hotels, public service buildings.
uPVC top hung windows, each of which is produced with the use of European profiles and accessories, add value to homes and workplaces. The double glazing system, which meets the profile with special gaskets, completes the insulation. Elitech models offer superiority with special hinges that can be opened as you wish according to the touch of your hand, and a secure lock system.
Which PVC Top Hung Windows Are Right For You
Models with a large number of exclusive designs, all provide trouble-free practical ventilation. It is used for years without maintenance. You can contact the Elitech customer representative at any time for the most suitable designs for your home of the top-hung window models, which are specially produced for the area of ​​use. Produced with the identity of Elitech manufacturer company, the superior quality of the top opening window will add value to your home and will bring it to your budget with price advantages.
PVC Top Hung Windows Design
Developed with the expertise of Elitech, each of the PVC top opening windows is designed with flexibility that can be produced in a custom size for your home. With this feature, it saves your house from the deadlock of standard dimensions. With its design that adapts the window to the style of your home, it best fits the architectural style of the building. uPVC top opening windows are separated from horizontal single opening windows with a vertical opening feature. With its opening shape, its design is mostly designed for bathroom and toilet windows, and it is preferred in other parts of the buildings as a part of the decoration, especially in commercial buildings. Scissors developed specifically for the model allow opening up to a certain angle. It offers the possibility of opening at desired levels at the angles between the highest angle. Thanks to the special design, the ventilation needed in the bathrooms and toilets are facilitated. The privacy of these environments is preserved with the advantage of top opening window design.
Get rid of the necessity of choosing standard-size windows with custom size production. We recommend that you contact Elitech directly for the window needs of your home or commercial buildings. Elitech expert customer representative offers you the most compatible models by taking special measurements for your building. The window you prefer among many suggestions is assembled ready for your use by the best quality post-production expert teams. Moreover, with special price advantages that will save your budget. By choosing one of the Elitech models produced with European-origin profiles and accessories, you can win both while purchasing and using it. You will find the best uPVC top hung windows prices among the selected models. Once you have it done, you will use it safely for many years without maintenance.