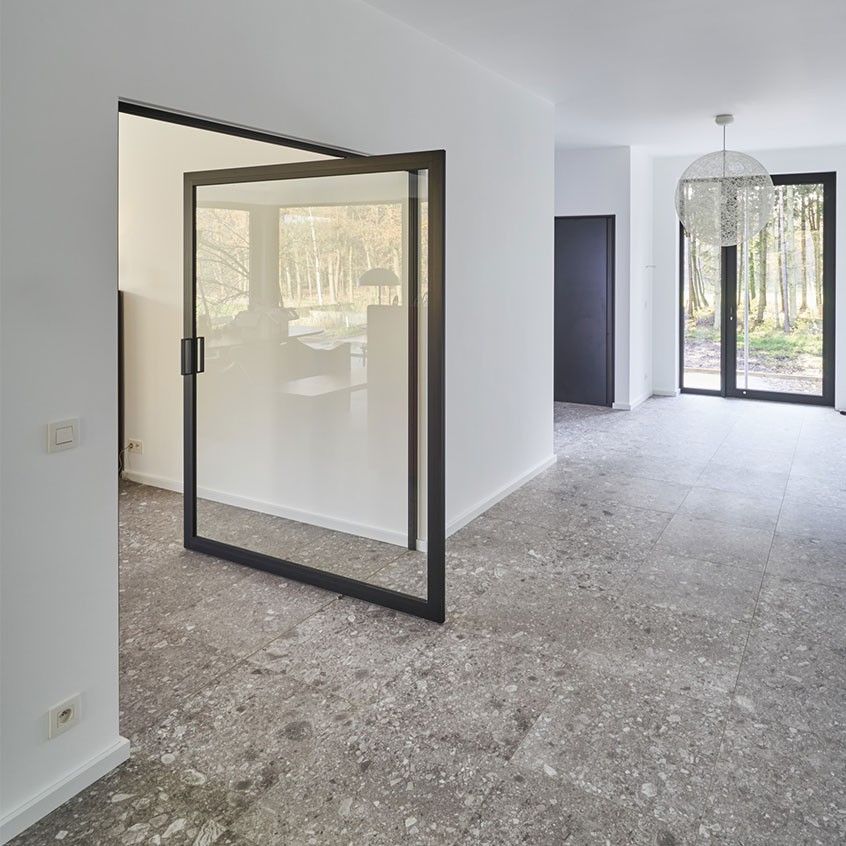 Unique Passion For Use Aluminium Pivot Doors
The use of newly designed aluminium pivot doors, specially designed for the needs of different areas such as residences, commercial workplaces and offices, turns into a passion. Discover Elitech door models with the elegance of modern architectural design, safe door system and long-lasting usage performance. It offers the widest single-piece door solution in homes and offices with its design superiority that makes the opening direction limitless. Adding value to homes and workplaces with its design and quality superiority, aluminium pivot doors give confidence with their durability.
Modern designs have the advantages of producing the best quality with the use of European made profiles and accessories. You will definitely find the special combination for your structure among many design alternatives. You will find a product tailored to your taste with a multi-alternative color and accessory presentation. The tempered glasses placed in the high-strength aluminium profile carrier frame blend very well with the aluminium material. It helps to reduce bill expenses with the best energy saving performance by combining glass with aluminium with special supporting wicks. Aluminium pivot doors, which combine very well with aluminium and stainless steel accessories, meet the visual pleasures in the best way. It provides full protection security
Impact and harsh climate resistant Aluminum Doors, Aluminum Windows, Aluminum Sliding Doors, Aluminum Single Doors, Aluminum Folding Windows, Aluminum Side Hung Windows, uPVC Doors, Folding Doors, Single Door, uPVC Windows, uPVC Side Hung Windows, uPVC Sliding Windows, We have Automated Systems, Aluminum Garage Doors, Roller Shutter Door, Frameless Glass Solutions, Balcony Closing System, Frameless Glass Door, Security Doors models. Our different models and designs are very functional and useful. You can spend time in your home in safety and comfort with the steel doors that we produce very safe against theft.
Aluminium Pivot Doors Models
Aluminium pivot door models specially developed for high-level building entrances in homes and workplaces can be used for original solutions in other areas. It has stylish models that add a glamorous appearance to buildings, and its appearance, ease of indoor ventilation. It is produced in rectangular and square scale models by taking special measurements for the place. Production can be made in asymmetrical model in order to achieve the best performance in special usage conditions for spaces. It provides comfort with its ergonomics of use at the entrance and exit of the building. It contributes to the spacious and spacious appearance of the interior. It brings an important design alternative to the classical right or left hinged door system with its pivot movable opening models. Despite its large dimensions, it eliminates the inaccuracies experienced in classical doors with its balanced weight.
Among the aluminium pivot door models, there are designs with or without glass. The expansion can be performed to the right and left in the horizontal axis, and to the bottom and top of the vertical axis. The use of movable hinges gives the pivot door models an aesthetic appearance in opening and closing. Ease of use and practicality turn into a passion. As we mentioned at the beginning, aluminium pivot door models provide the best solution for buildings with high elevation entrances. It is preferred in many areas such as residences, social facilities, shopping malls, commercial office buildings, restaurants, recreational facilities. Production can be made in models with a width of 2 meters and a height of 4 meters. In all models, high-strength aluminium profile casing is used to increase the strength and ease of use. Aluminium is very light compared to other heavy carcasses, making it very easy to use. It is easy to use with its lightness in all sizes, and it feels like it doesn't exist at all.

Security
Quality
Insulation
Modern Design
Customer Satisfaction
Aluminium Pivot Doors Prices
You will have the most advantageous solution with Elitech aluminium pivot doors prices, which are produced using the best quality aluminium profiles, door handles, locks and movable hinges from Europe. The most suitable original designs for your building are produced with the highest quality production in modern facilities and offered to your use by making the best application with Elitech experts. There are many reasons for choosing the right brand for your building, from project to production, from quality assembly application to after-sales support services.
We recommend that you contact Elitech to take advantage of free measurement and price advantages. Expert project suggestions specific to your space will meet your expectations in the best way. Aluminium pivot doors prices specific to your budget will give you the peace of mind of purchasing the right product at the best price.
Special benefits for you start with the approval of the proposed project. Exclusive profiles, special tempered glasses, special accessories for your structure and your choice are produced in a short time on modern lines. Produced door parts, together with all their equipment, come to your place of installation by Elitech experts. The pivot door, which is expertly prepared within hours, is delivered for your comfortable use.
Aluminium Pivot Doors Properties
Elitech aluminium revolving door systems, produced with the use of special quality European profiles and exclusive accessories, stand out with their superior features. It provides the best contribution to living comfort with its advantages such as ergonomics of use, practicality and secure locking system. Each model, which embodies the original concepts of modern architecture, stands out with its design aesthetics wherever it is applied.
It can be used peacefully for many years with the best safe door solution along with comfort to the buildings. Although years pass with its quality, it maintains its superiority in appearance on the first day. It has the best insulation performance with the special gaskets placed on the glass and aluminium junctions together with the accessories. It minimizes budget expenditures by reducing energy expenditures significantly with the savings gained from air-conditioning. It provides extra security with its special compression lock system from many points. With its tempered double glass superiority, it provides a different comfort of use. The glasses are produced in a safe model that will not harm people against possible breakage. With its aluminium profile strength, the pivot door provides long life and increases the comfort of use with its lightness.

While it opens to the best views with its wide door and opening superiority, it also contributes to the ventilation of the indoor environment in a short time. It always keeps the indoor and outdoor view alive with the best width and openness. It transforms the suffocating dark environment of the interior into light.
It adds a special value to the buildings with its bright appearance with various aluminium appealing colors painted in special RAL colors. It enriches the building entrances and increases its interior value. Perfect production in a modern machine line and ready-to-use installation and delivery by experts are combined with superior features. In addition to standard size production, you can get support for custom-size productions with Elitech expertise.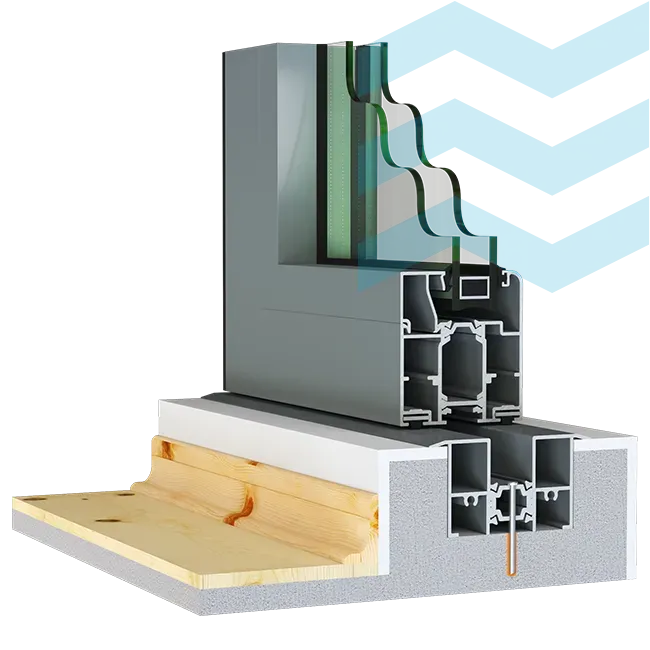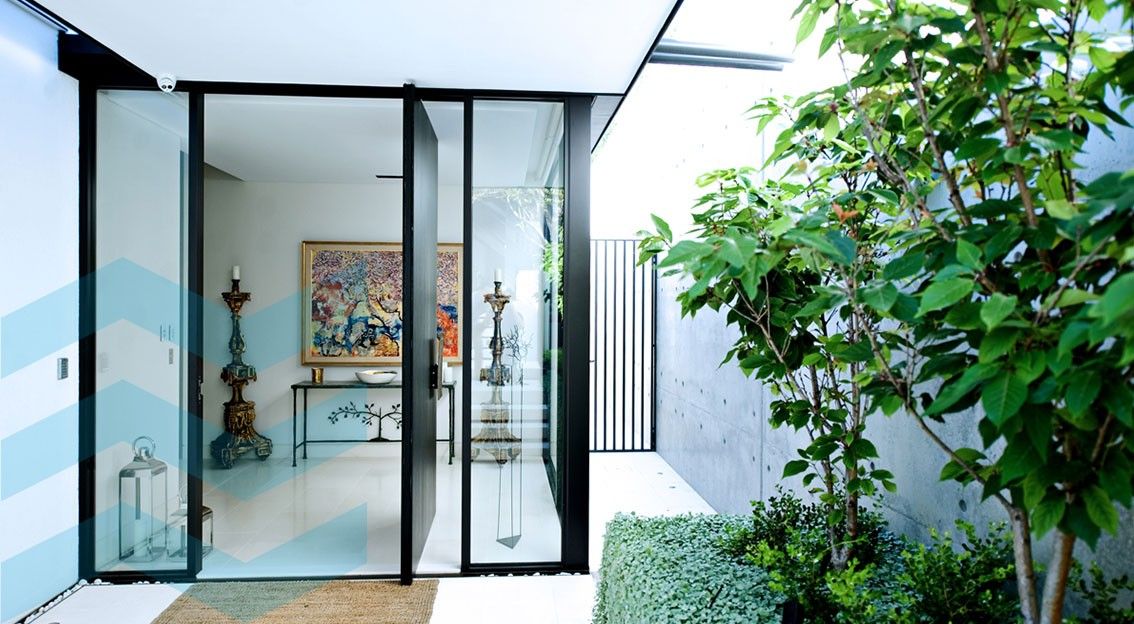 Which Aluminium Pivot Doors Are Right For You
We recommend you to choose Elitech aluminium pivot door systems for the best solution for your buildings with wide openings at high entrances. Elitech is always with you with project support specific to your home or workplace, modern production with the use of European profiles and accessories, ready-to-use expert assembly workmanship and after-sales services.
We have no doubt that folding sliding doors will add value to your home. Elitech expertise is at your side with the most advantageous price offer in order to beautify your spaces and bring together natural light and comfort when you need it.
Aluminium Pivot Doors Systems What Are The Advantages
It provides the best solution for high entrance and wide opening door needs. With its safe double glazed system on aluminium quality profiles, it contributes to interior spaces with unlimited light.
It provides ease of air conditioning by eliminating possible thermal bridges with special gasket applications in the areas where aluminium profile and double glazing meet. It reduces energy bill expenses with its high insulation performance. Air conditioner-like devices operate less, reducing maintenance costs. It continues its contribution to the air conditioning performance in the noiseless interior as well. When closed, possible outside noises are prevented from entering, making a great contribution to a quiet and calm environment.
The quality profile contributes best to the building privacy security with its special lock systems together with tempered reinforced glass. With its wide opening advantage, it allows the best ventilation of the interior in a short time.
With the selection of UV protected glass, harmful lights are prevented from entering the indoor environment. Facilitates special door needs. It provides a significant advantage over other doors with the widest and highest door presentation. It contributes to the comfort of use with its maintenance-free feature and ease of cleaning. It is used for many years in its first day's vitality. Practical supremacy turns into a passion.
Pivot opening door systems applied at your place of use by Elitech expert assembly team will give you the best comfort of use.