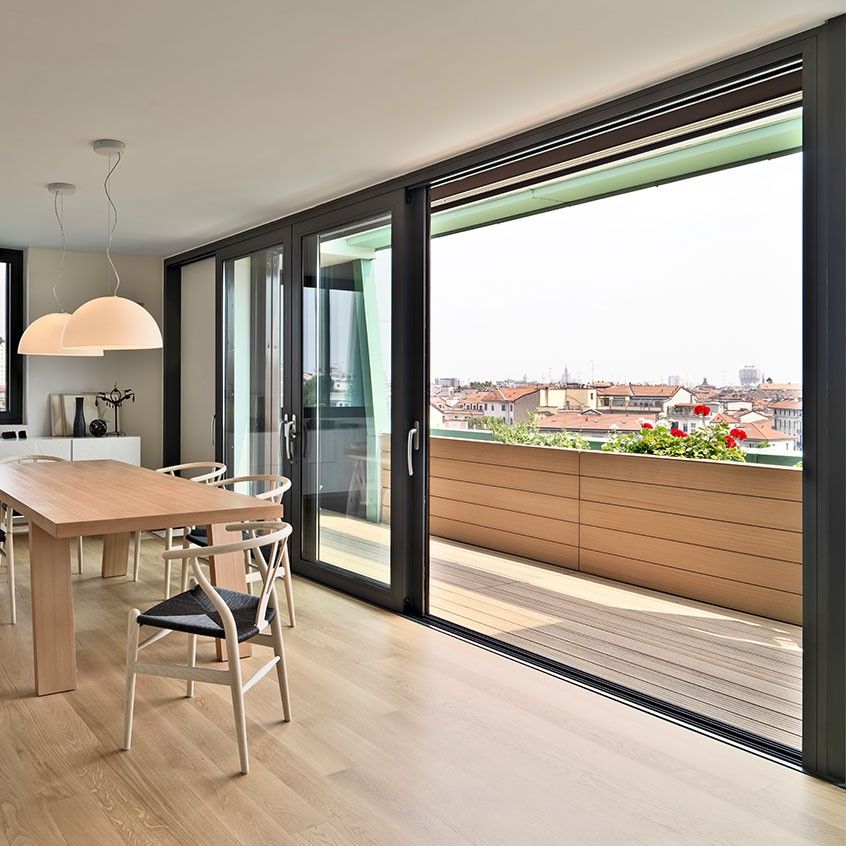 Aluminium Doors
Our Aluminium doors, are designed and produced with the expertise of Elitech, with the use of aluminium raw materials that have an advantage of long-lasting use, stand out with their elegance in every place where they are applied. It adds value with its modern appearance and with its own brightness and vitality wherever it is preferred from residences to business centers.
It can be used safely for many years, and it secures the aesthetics of the first day without losing its vitality. The aluminium material used in the production of doors makes a great contribution to the protection of environmental values, they also have the advantage of being fully recyclable.
Aluminium doors have an advantage of being able to be produced in alternative models and sizes beyond the standards.
With this door sample, in addition to standard Aluminium Double Doors Click to get information about opening designs, pivot and double opening, concealed hinge application, folding doors system can be produced. The option of inward or outward expansion is also among these riches.
From offices to business centers, from residences to villas, from schools to hospitals, Elitech distinguishes itself with its beauty, with its superiority of application and appearance. The durability of Elitech aluminium doors has been proven to be long-lasting and safe for use in hot, humid or cold climate conditions. The resistance of aluminium is 23 times higher than PVC doors and 43 times higher than other equivalent wooden door. Elitech aluminium doors are South Africa's most chosen option with their superiority that is resistant to UV sunlight, not affected by humidity, and does not allow corrosion and rusting.
Security
Quality
Insulation
Modern Design
Customer Satisfaction
Aluminium Doors Models With Its Original Design
Aluminium door models are the product of Elitech's original designs, they bring value with their visual aesthetics and comfort with its ergonomics of use to the places where it is applied. There are many uniquely designed models for different usage areas, from the main entrances of the building to the interior partitions of the business center. Aluminium door models, which are especially preferred for their strength in the main entrances of the building, have been specially designed and produced for repeated use in heavy circulation. It opens and closes repeatedly without being affected by the intensity of human traffic in public service areas such as business centers, apartment entrances, schools and hospitals. Aluminium Folding Doors Click to get information about They can be used safely because of their high resistance in factors such as frequent impacts. It offers the advantage of a door solution to every area with its unlimited model design and ease of application to a specific extent.
Aluminium doors models with double wing opening, with their ergonomics that add spaciousness to spaces, are among the highly preferred Elitech models. they stand out among other models with their double-piece opening advantage. While they are generally reduced to a single opening in daily use, the wing opening provides convenience during the transport of coarse materials such as goods in or out.
Another prominent model among aluminium door models is the aluminium glass door system. The use of glass in door models is an important part of the design. Glass door designs can be applied to any model. The productions take a place with the use of glass together with aluminium in Elitech doors, which brings comfort to the place where they are applied. The most suitable Aluminium Doors, which provide comfort with their original designs, production and application, ergonomics that add value to spaces, with Elitech privileges.
Aluminium Doors Properties
The most useful aluminium doors, which maintain their vitality for many years, stand out with their long-lasting usage performance. Along with its high strength, the lightweight feature of aluminium relieves structures from heavy loads and contributes to practical opening and closing ergonomics. Aluminium also provides the best resistance against climatic conditions. It is used without being affected by sun rays with its UV resistance. It is used regardless of extremely hot, humid or cold climate. It keeps the aluminium paint, which is the best match for the electrostatic painting system, as if it is its main feature. With this superiority, Elitech's most useful aluminium doors also last for many years in terms of paint. In addition, it reflects a different beauty in every color by showing it attractively on the painted. Aluminium makes a great contribution to revealing detailed designs with its easy-to-process material feature. At the same time, it is extra resistant to impacts with its elastic feature.
Kansor Elitech produces the most useful aluminium doors for you with its expertise. Elitech reflects expertise in every detail with its modern design, quality, production and application superiority.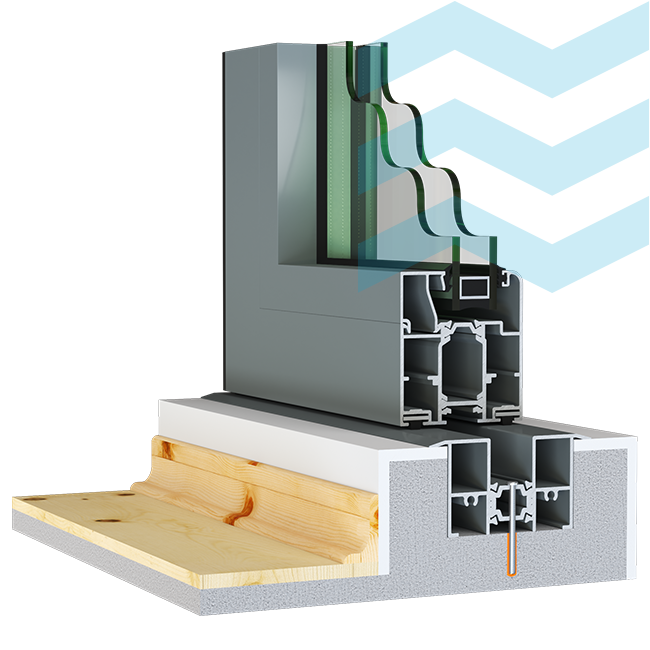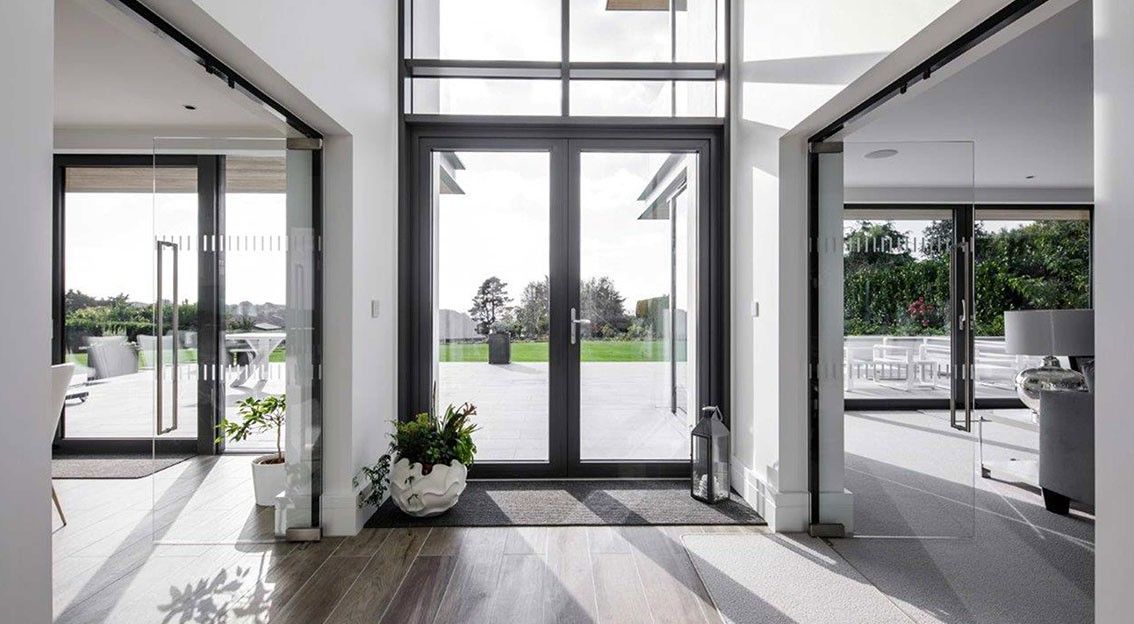 Which Aluminium Doors Are Right For?
Aluminium doors systems are used safely in all buildings, from residences to offices, from commercial buildings to public service buildings. We would like to support you with the most suitable Aluminium Doors for your building project. You can get information about the most preferred aluminium doors (The most preferred Aluminium Doors) by contacting us.
Aluminium Doors Prices With Elitech Advantages
Elitech aims to provide the best quality products that will gain the satisfaction of its customers with its expertise in the sector and its identity as a manufacturer. In this context, it is in the basic sales policy to offer the best quality to its customers at the most advantageous prices with Aluminium Doors Prices. It offers the best quality to its customers' budgets with options that save them money, with profile and glass alternatives, along with a variety of models. Aluminium product projects in different areas of use, especially in offices, business centers and residences, are prepared by taking into account the customer's budget. After the project approval, it is produced in modern facilities with the expertise of Elitech and delivered with ready-to-use shape.
While evaluating the aluminium door prices, the company's production power and field assembly capabilities should also be taken into consideration. In the projects realized by Elitech, the excellent organization of the field assembly teams working in sync with the design superiority, the selection of the best quality materials, and the production detail solution advantages come to the fore. With the success of this organization, which is an important factor in determining the aluminium door, customer satisfaction is seen at a high level in the projects realized by Elitech. The design superiority that brings together aesthetics in every place at first sight, the production quality that maintains the vitality of the first day for many years, and the professional craftsmanship practices that provide comfort to the users that can be immediately noticed. With its superiorities, Elitech is among the most preferred aluminium doors. How would you like to be introduced to Elitech professionalism with our aluminium door and window solutions that will add value to your space with our special model suggestions for your project?
FAQ
These doors are very durable doors. Therefore, you do not need to worry about the usage time of these doors.
If you fill the dialog box on our website, our teammates will contact and give you information on the subject you want.
If you wish, we can assemble and install during the delivery of your orders.
It is possible to order a door with the size you want. There is no obstacle in this regard.
Security should be one of the first things you care about when choosing a door. And these doors are quite safety.
Customer Comments
Consequat Lobortis
Consequat lobortis ut sunt placeat aspernatur! Incidunt sagittis error autem cras! Illum? Egestas condimentum natus excepteur habitasse litora. Qui molestie hendrerit sapien, ducimus maecenas! Integer...
Nostrud deserunt
Nostrud deserunt fusce condimentum sagittis quidem, qui etiam pharetra. Id gravida interdum dis facilis imperdiet, quae eveniet nisi, id auctor labore malesuada nisi possimus, necessitatibus metus acc...
Curae Curabitur
Curae curabitur curae quaerat consectetuer wisi, mollitia voluptates fusce modi tortor conubia. Porttitor saepe excepturi? Quis massa alias fugit inceptos, habitant quos! Officia class praesentium inc...
Commodi Molestiae
Commodi, molestiae ultrices mollis suspendisse varius laborum tempora! Doloribus magni, non delectus potenti interdum nam, minus nisl placerat, pulvinar cubilia voluptatum tincidunt praesent nesciunt...
Aluminium Doors What Are The Advantages
The advantages of aluminium doors, produced with Elitech expertise, provide many benefits from economic to environmental friendliness. First of all, with aluminium joinery, building doors from residences to business centers are given a stylish appearance. Opening and closing can be done easily with the advantage of light material. The economic advantage of the aluminium joinery system is valid for residences, commercial enterprises and all buildings. Once it is made, it is used for many years without wearing out. It is much more economical than wooden joinery.
The 100% recyclable feature is among the advantages of aluminium doors, which is very important in terms of protecting environmental values. With very little use of energy, it can be fully recycled into the economy. In this respect, it continues to protect nature by minimizing carbon emissions.
With its easy-to-process and flexible feature, aluminium joinery facilitates the implementation of the desired architectural design concepts. High heat and sound insulation performance can be achieved with special gasket applications. In this regard, it also blends in very well with glasses. It contributes to very stylish designs with its glazed aluminium joinery models.
With its resistance to corrosion, the maintenance of aluminium doors systems is also very difficult. It does not contain any stains on it, it can be easily cleaned. It is always used with the same aesthetic appearance without breaking, stretching and leaving itself in hot, humid or cold weather conditions.