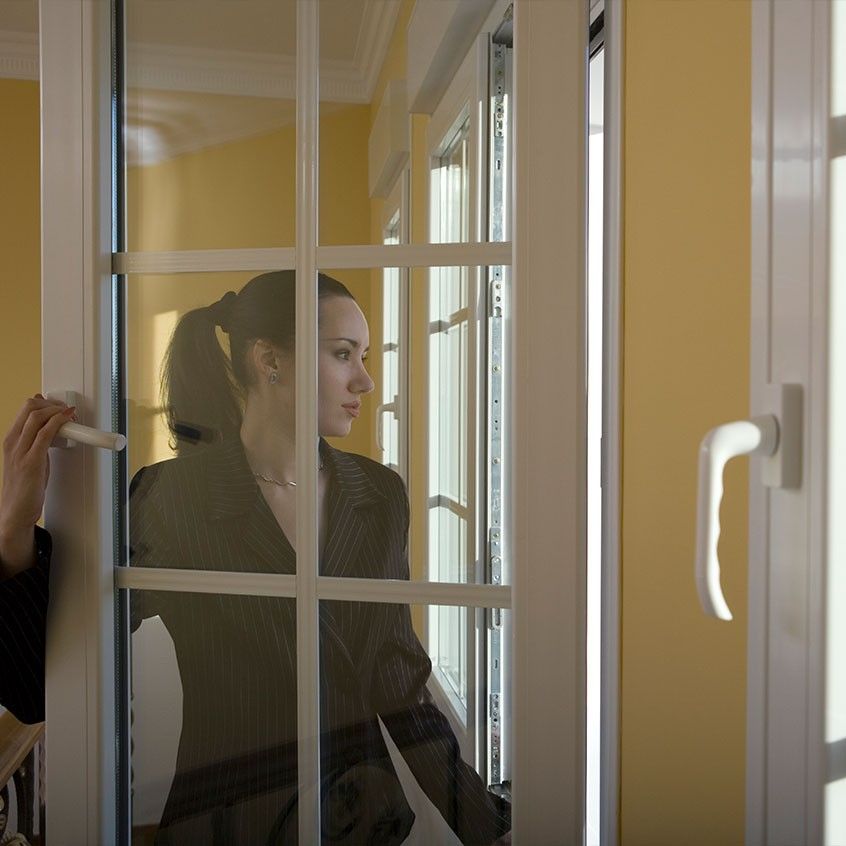 uPVC Side Hung Windows
The long-lasting PVC side hung windows, which are the most compatible with the housing and building designs in modern architectural design, are the most preferred window model of today. It adds value to the home or workplace where it is applied, with its aesthetics and quality. It is among the best window models with its durability, quality that offers long-lasting enjoyment, and insulation performance that saves budgets with energy savings. Elitech PVC side hung windows , whose distinguished designs are produced in modern facilities with the use of European profiles and accessories, are the preferred window brand of South Africa. Its use is especially common in Johannesburg and adorns the windows of elite residences and business centers with its beauty. With its quality, production technology, and ready-to-use assembly applications, Elitech saves budgets with the advantage of a manufacturer brand.
Meet Elitech advantages for the right choice of PVC side hung windows and profit. It brings together the best natural light without narrowing the viewing angle in homes and workplaces where it is applied with its high-strength, special thin profiles. It is produced by special projecting for every area needed, regardless of narrow or wide openings.
Impact and harsh climate resistant Aluminum Doors, Aluminum Windows, Aluminum Sliding Doors, Aluminum Single Doors, Aluminum Folding Windows, Aluminum Side Hung Windows, uPVC Doors, Folding Doors, Single Door, uPVC Windows, uPVC Side Hung Windows, uPVC Sliding Windows, We have Automated Systems, Aluminum Garage Doors, Roller Shutter Door, Frameless Glass Solutions, Balcony Closing System, Frameless Glass Door, Security Doors models. Our different models and designs are very functional and useful. You can spend time in your home in safety and comfort with the steel doors that we produce very safe against theft.
PVC Side Hung Windows Prices
With Elitech uPVC side hung windows prices, you will find the best quality with economical price options suitable for your budget. Elitech also saves money both when purchasing and with trouble-free use for many years. It adds value to the home and workplaces with its aesthetic appearance. With its durable quality that does not wear out, it reduces the cost of expense budgets for many years without the need for maintenance. European profiles and accessories are integrated with double glazing, increasing the insulation performance to the best level. Regardless of summer or winter, it reduces bill expenses with a noticeable energy saving.
With the trust, quality and ready-to-use professional assembly applications of Elitech, the window manufacturer of South Africa, PVC side hung windows prices are the most advantageous choice. With the after-sales service guarantee on its products, it is with you for many years of use with confidence. The windows are priced according to a special size for your home. Elitech expertise is with you to choose the right product at the best price for your budget with alternative model presentations. Whichever model you choose, it will add value by beautifying your home and making your life easier with its comfort.
For uPVC side hung windows prices for models that will add value to your home, just contact an Elitech expert. The friendly customer representative will listen to you, understand you, and support you to make the right choice for your home. White, wood pattern, anthracite, or many exquisite color choices, harmonious glass combinations will be offered to your choice. You will have the best quality at special prices for your budget with many advantages that it will bring you. Homes and offices will meet with aesthetics, interior spaces will be illuminated with the best visual comfort, and it will continue to earn as long as you use it with its secure lock system and insulation performance.
Security
Quality
Insulation
Modern Design
Customer Satisfaction
What are the advantages of PVC Side Hung Windows?
Elitech side opening windows, produced by the use of European origin profiles, accessories, and lock equipment, have many prominent advantages. With its modern and simple design, it adds aesthetic value wherever it is applied. It has important advantages such as a secure lock system, superior insulation that saves energy, and long-lasting use.
It adds aesthetic value with its modern look to everywhere it is applied.
With its insulation superiority, it reduces the air-conditioning expenses and provides income to the budget.
It does not allow rain, dust, and wind.
It gives the advantage of healthy and fast ventilation to homes and offices.
It gives confidence with its full-length espagnolette lock system and extra lock applications.
Since they have a stable structure, they are not affected by summer and winter seasonal conditions.
With its high strength, it is very light and easy to apply. Old windows can be renewed with PVC windows on the same day.
They have many different color options.
It can be applied as a single wing in narrow areas and as a double wing in wide opening areas.
It is very easy to maintain and clean.
It is delivered with ready-to-use assembly in a short time by Elitech professionals.
PVC Side Hung Window Design
PVC sliding window designs, each of which is prepared with the expertise of Elitech, are the best candidates to bring elegance to the home. Original designs are produced in modern facilities with the use of profiles and accessories of European origin. Regardless of the usage area such as home, villa, business center, school, or hospital, every place where it is applied adds value and brings together aesthetics. Especially thin profiles that do not limit the viewing angle, opening windows to the brightest interiors, complete the original designs.
Different varieties of new trends and exclusive colors of profiles and accessories make a great contribution to bringing the design together with aesthetics. The original window designs of innovative modern architecture create admiration for those who look at the houses from the outside. Windows, which provide the best environment harmony with their interior aesthetics, give comfort to everyone living in the interior.
How about bringing your home or workplace together with the best windows?
Which PVC Side Hung Windows Right For You
You can choose the right window that will make your home privileged among the distinguished designs prepared with the expertise of Elitech. It is the most preferred window model in South Africa's distinguished housing and building projects. You will earn as you buy and use windows produced in a modern machine line with the use of European profiles and accessories, at affordable prices.
Elitech window is the best for your house with its quality superiority, designs that add value to the place where it is applied, and its insulation superiority. While bringing your home together with aesthetics with its quality and elegance, it will save your budget from maintenance costs with its superior insulation and long-lasting usage performance. Special accessories compatible with models integrate with quality detail solutions with locking mechanisms that increase security to the best level. You can closely examine the details of the most exclusive models with different double glass alternatives, profiles, and accessory color alternatives.
You can contact Elitech now to have the most exclusive, top-quality, long-lasting windows with Elitech expertise.
PVC Side Hung Window Models
Create a modern style in your home with Elitech's exclusive designed uPVC side hung windows models. Among the Elitech models, some windows will bring your home together with aesthetics and that will make you enjoy the comfort of use for many years.
The main feature of uPVC side hung windows models is that the wings can be opened and closed thanks to vertical hinges to the right or left. The models are specially designed to make the halls and living rooms of the houses attractive. In addition to the side-opening wings, it is also possible to apply the upper transom half-opening application. While the room is ventilated in the fastest and most practical way with a side opening, continuous controlled air circulation is provided with the addition of a transom opening. Window models are produced according to special dimensions in homes or workplaces. The model alternatives that can be applied to the windows of your home are presented separately by the Elitech customer representative you will contact, and the choice is left to your preference.the advantage of the manufacturer, you will find the most suitable window models for your budget at Elitech.
Side opening windows are generally used in living rooms and halls in residences. With its practical side opening feature, it helps the houses to be ventilated in a short time. This window model is also widely preferred in work offices and general workplaces.
uPVC side hung windows models, whose wings can be opened 180 degrees, can be opened and closed silently and quickly with the help of an arm. All of the models are produced using European-origin profiles and accessories. Especially thin profiles provide maximum width of vision. While the best openness gives comfort to those living at home, it creates working environments that increase productivity in the workplace. All models of Elitech are offered for your choice with alternatives by taking special measurements for home or building projects. Are you ready to meet Elitech window quality, which will save you money when you buy, and will always give you the comfort of the first day with its safe use for many years?
Stainless special support sheets placed in European profiles increase the strength of PVC side hung windows to the best level. It does not allow the window to deform in any way, even during hard closing movements. Even if it is used for years, it maintains the superiority of full closing and locking with the best security. Alternative glass applications in the double glazing class contribute to the insulation and safety performance.
South Africa's expert window brand Elitech uPVC side hung windows are waiting for you with every model of the right choice. Meet with long-lasting windows with the trust of Elitech, with the use of the best profiles and accessories, technological production, and professional assembly services, add value to your home.