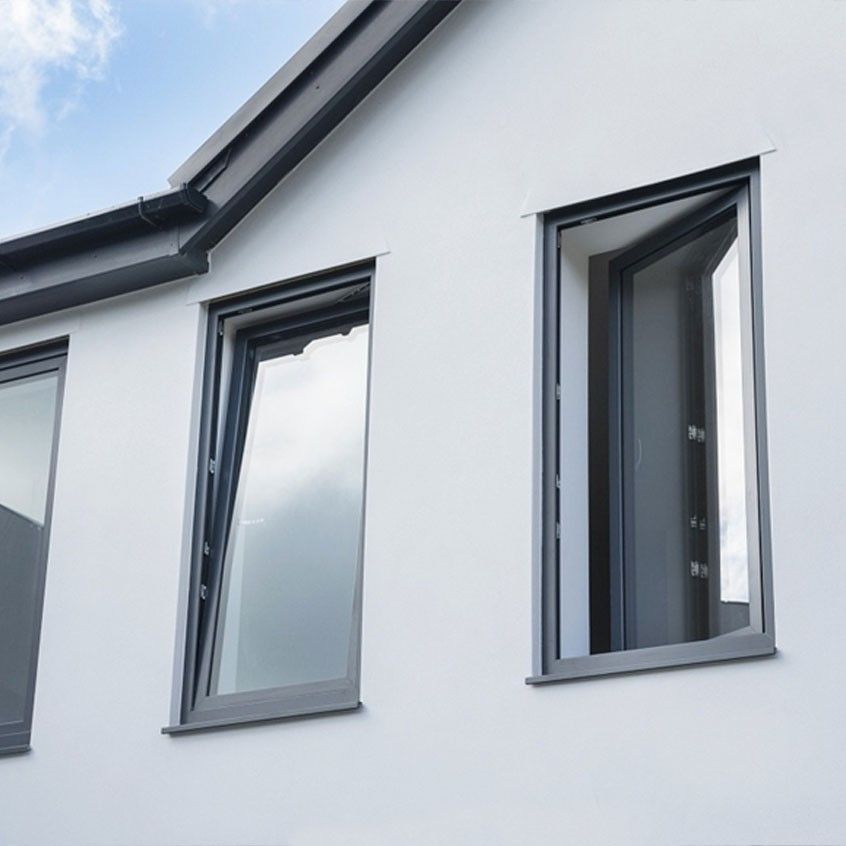 Aluminum Head and Turn Windows
With the aluminium tilt and turn windows system, you have the freedom to open and close as you wish. You can use a normal wing opening or V-shaped transom half opening whenever you want. The transom opening system offers the healthiest ventilation advantage in cold or windy weather. It becomes almost impossible to use the normal opening, especially in heavy winds. Curtains on the window can fly away, destroying the privacy of the house. Most of the time, valuable items such as trinkets and paintings close to the window can be damaged by falling under the influence of the wind. The V opening in the aluminium tilt and turn windows application comes into play here. In a normal opening, by turning the handle 90°, a full opening is made to the right or left where it is adjusted. In transom opening, the handle is activated by turning it 180° from its current position. V opening allows the wind or cold air circulation to go back by hitting the glass in the horizontal opening. Wind intensity does not harm the house by entering. At the same time, ventilation is carried out smoothly and healthily. The double opening window system also prepares a safe environment for the cute naughty children of the house. By using a half opening, the risk of children hanging from the window and falling is eliminated. It can be safely opened and ventilated even when there are children in the house.
Aluminium Tilt and Turn Windows Models
Elitech aluminium hood and revolving window models, in which high-quality profiles and accessories are used, bring comfort to homes with distinguished designs and functional usage superiority. It can be applied with special dimensions in all narrow or wide opening window areas. A rich model alternative is Elitech's industry expertise and transformed into solutions specific to places. The double opening system in all sizes and models brings the inside of the house together with the possibility of safe ventilation in all weather conditions.
The ventilation advantage of the aluminium hood and revolving window models stands out in any case. For example, it becomes possible for small children at home to play freely without fear of hanging from the window. They can play around the house without risk even when parents are in another room in the house. Again, pet lovers can easily ensure the safety of these cute creatures by using the advantage of transom opening. It can be done easily by using the full wing opening feature for window and glass cleaning.
Aluminium hood and revolving window models are among the most preferred models in new buildings built in modern architecture with their design superiority that offers alternative opening opportunities. In particular, the transom has gained widespread recognition with the comfort of use it provides. Everyone who wants to buy or rent new house questions whether there is a transom opening application on the windows. The advantage of the window model has added value to new homes.
With their profiles that integrate perfectly with their special quality accessories, these windows can be used safely for many years with the best usage performance. It brings the homeowners together with the comfort of use with practical opening alternatives. With its multi-point special locking system, it brings the houses together with a safe window.
Security
Quality
Insulation
Modern Design
Customer Satisfaction
Aluminium Tilt and Turn Windows Prices
When evaluating window costs, the general advantages and comfort of use it provides must be taken into account. Although the aluminium tilt and turn windows prices are a little more expensive than standard opening windows, they have many advantages. We have mentioned the most prominent of these advantages above. First of all, the transom opening provides great convenience for ventilation in heavy windy and cold weather. It eliminates the risk of falling out of the window for children and pets who are still in their infancy. Two alternative opening possibilities, normal and V-shaped, facilitate usage preferences.
Along with the advantages we have mentioned above, aluminium tilt and turn window prices vary according to their size and other features. Small opening windows always have more economical prices than large opening windows. Profile thickness, locking options from different points, glass features, accessory preferences are among the differences that affect price variability. uPVC Windows you can take a look here.
By using Elitech brand advantages, you can get the best budget advantage in double opening window prices. Elitech double opening windows are produced in a modern machine system with the use of European profiles and accessories. It maintains its advantages of trouble-free use for many years with the quality of assembly, application and workmanship carried out with Elitech experts. Take advantage of Elitech expertise for the right window choice for your home and the most affordable price advantages.

Aluminium Tilt And Turn Windows What Are The Advantages
- Double opening windows stand out with their ventilation and security advantages
- In addition to normal opening, it offers the possibility of transom opening because of the addition of a different mechanism system
- Transom opening has the safest ventilation advantage especially for children and pets compared to normal opening
- Both openings are carried out practically and work without any maintenance with its special mechanisms, for many years.
- It can be used in different areas such as residences, offices, hotels, social facilities, schools, and hospitals.
- With the controlled ventilation system, reduces the energy costs of the air conditioning and saves it in the expense budgets.
- In the standard opening, it eliminates the sudden closing of curtains, especially in windy weather, and damage to items such as trinkets and paintings. It eliminates the risks of damaging the human body by hitting it uncontrollably.
- It is very easy to maintain. Stain-proof accessories and profiles are easily cleaned.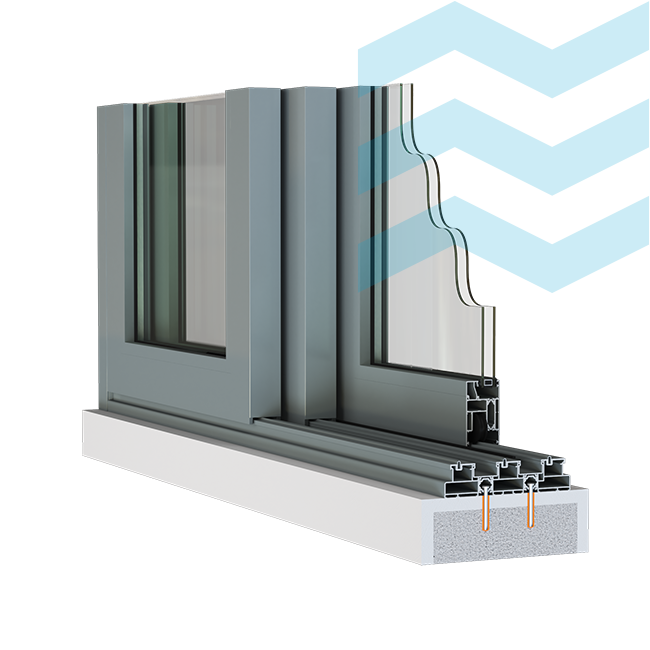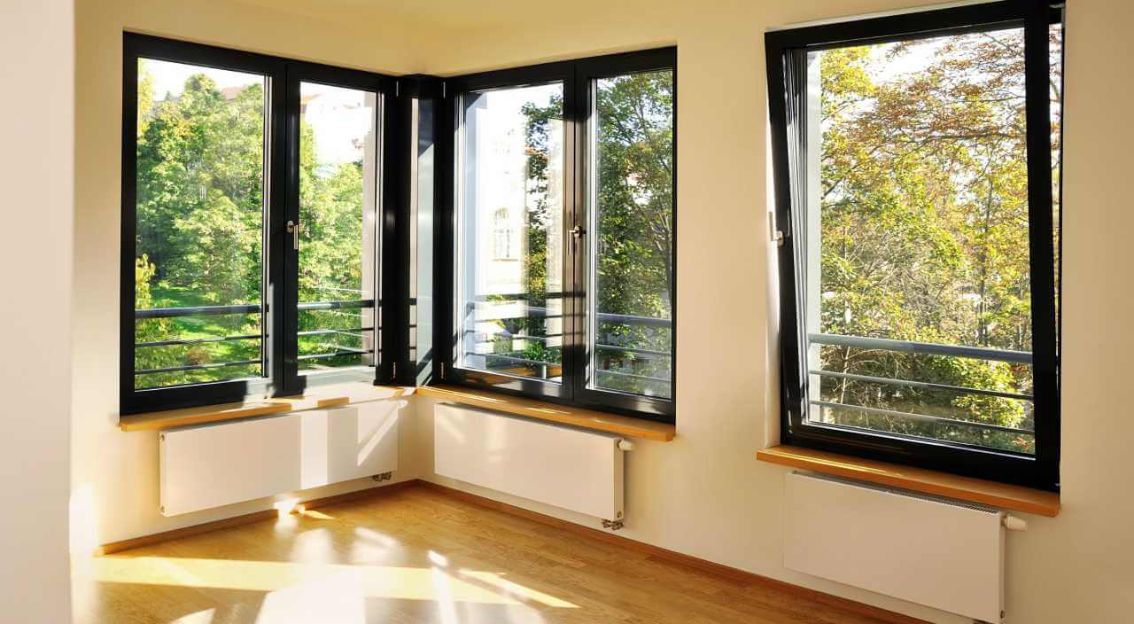 Which Aluminium Tilt and Turn Windows Are Right For You
You can benefit from Elitech's expertise when you want to replace old windows with your new housing or building projects, free of charge to choose the most suitable window for your structure. Experience the advantages of modern designs, the best profile, and exclusive accessories, technological production, and expert craftsmanship with Elitech preference. You can contact Elitech about any questions you may have about double opening windows.

Aluminium Tilt and Turn Windows Properties
Elitech aluminium tilt and turn windows properties have many advantages. Elitech window stands out with its modern designs, best quality profile and accessory choice, innovative production, and assembly application advantages. It is the most preferred model for most new homes and the renovation of windows in old homes. It offers an application alternative in narrow or wide opening window areas. It is in full harmony with modern architectural structures. It provides the best viewing angle to the interiors with its elegant profiles along with its aesthetic appearance. Since aluminium is light as basic material, it does not create an extra load on the buildings. Despite this, it stands out with its high strength and wear-free superiority. Quality profiles are supported by exclusive accessory choices. The glasses used in the window are placed on the profile with special gaskets and have a high insulation performance.
Security has been increased to the best level with advanced locking alternatives from different points in the opening areas. It has the comfort of use with the practicality of full or transom opening. The insulation is supported by a double glazing system, and the special European profiles preserve their first day's vitality for many years without fading in the sun's UV rays. Double opening windows are very easy to maintain and clean, along with their aesthetic appearance. The stain-proof profile and accessories are easily cleaned without wearing out with the use of a dry or damp cloth. After each cleaning, the windows gain the new look of the first day. With its double opening superiority, it has the convenience of healthy ventilation in all seasons. With its perfect slope, it brings the inside of the house together with the best ventilation. It provides a safe solution to homes where children and pets are still in their developmental stages. Models that fully comply with new architectural concepts with different color alternatives in RAL standards can be produced easily.