One of the most popular window types is uPVC folding windows. Folding windows are designed to fold away when opened. Unlike windows that swing open, folding windows take up less space and are more visually appealing.
Features of uPVC folding windows
The most significant features of uPVC folding windows are:
Durability: Compared to other types of windows, uPVC folding windows are more durable and long-lasting. Due to the quality material, uPVC folding windows are resistant to weathering, corrosion and rotting. They do not require regular maintenance and offer life-long use.
Security: Equipped with a multi-lock system, uPVC folding windows are highly secure.
Energy efficiency: Due to their excellent insulation, uPVC folding windows are a rather energy-efficient option.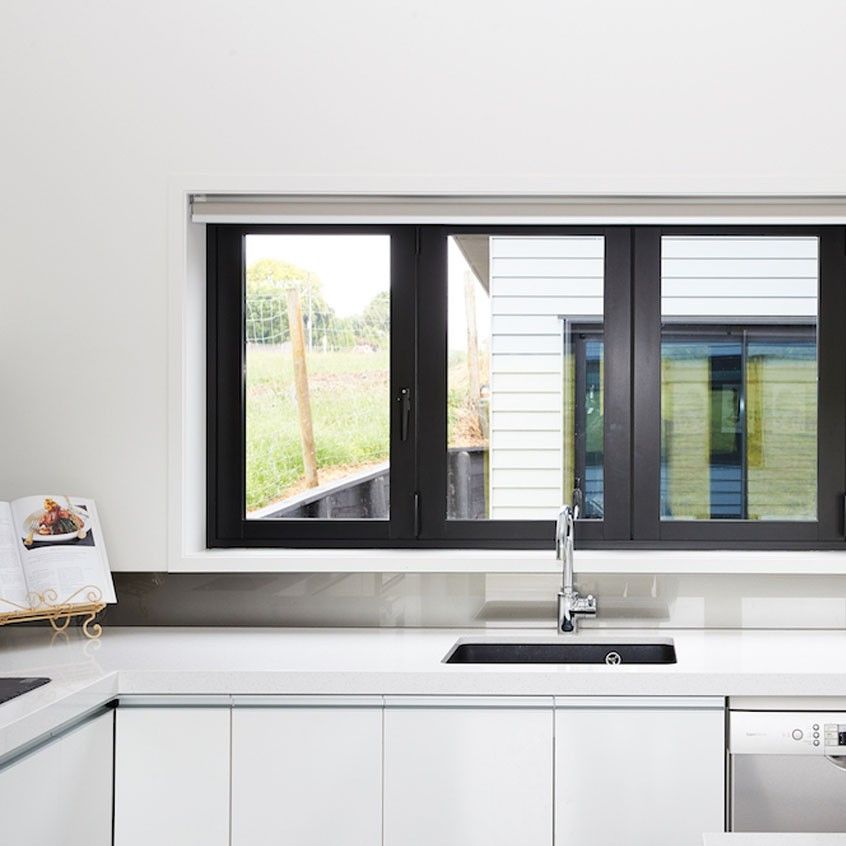 Design options for uPVC folding windows
Design is vital to achieving a certain aesthetic in your home; the colour and design harmony between your furniture is critical. That's why, at Elitech, we offer our customers a wealth of design options for uPVC folding windows. You can contact us to order the windows in the colour and design of your choice.
Noise reduction with uPVC folding windows
We all love listening to nature's tranquil voice - yet not always. Sometimes, you may need to get away from distractions to focus on your work or finish your new book; that's why having windows with sound insulation is significant. Thankfully, uPVC windows are real lifesavers at this point; due to their special design, uPVC folding windows and folding uPVC door with windows are effective at reducing external noise levels, creating a more peaceful and quiet indoor environment.
Security
Quality
Insulation
Modern Design
Customer Satisfaction
Security features of uPVC folding windows
You should choose the right window for your home with various aspects in mind; one - and possibly the most important - is security. Thankfully, the multi-joint locking system, strong frames and toughened glass of uPVC folding windows make them one of the most secure options. Also, hinges and locking handles provide excellent protection.
Advantages of uPVC folding windows
Some of the primary advantages of uPVC folding windows are:
Aesthetics: One of the biggest perks of uPVC folding windows is their aesthetic build. This type of window is designed to offer functionality and aesthetics together. Plus, with a myriad of different colour and design options offered by Elitech, you can customise the uPVC folding windows as per your taste.
Saves space: Folding uPVC windows, as the name implies, fold away, making a perfect option for small rooms.
Versatility: uPVC folding windows also come with high versatility; they can be designed to open inwards and outwards, and the panels can be hinged at the top, bottom, or middle. This way, you can order your folding windows in accordance with your house's needs.
Maintenance and durability of uPVC folding windows
One of the best features of uPVC folding windows is how little maintenance they require. This type of window usually doesn't need much care; you only need to clean them regularly. And thanks to the quality material we use in our products, Elitech's uPVC folding windows are resistant to corrosion, rotting and harsh weather conditions.
FAQ
In order to ensure the longevity of your uPVC folding windows, you should regularly clean them, at least twice a year. Lubricating the hinges and the locking mechanism once a year might also help.
Always avoid using sharp tools on your uPVC folding windows for repairing purposes, as they might damage the surface of the uPVC. If you need help, you can always call Elitech for regular maintenance.
Elitech is here to provide you with the best windows in your area. From uPVC Top Hung Windows to uPVC Side Hung Windows to uPVC folding windows, we offer each type of window you need. Contact us to learn more about our products and pricing.
Folding openers for uPVC windows are very easy to install. The process usually starts with measuring the window opening. Then, the opening will be cleaned, and the frame will be anchored to the wall with screws. Once the uPVC frame is fitted, the glass panels will be attached to it. Lastly, the hinges and handles will be fitted onto the uPVC frame, and voila!