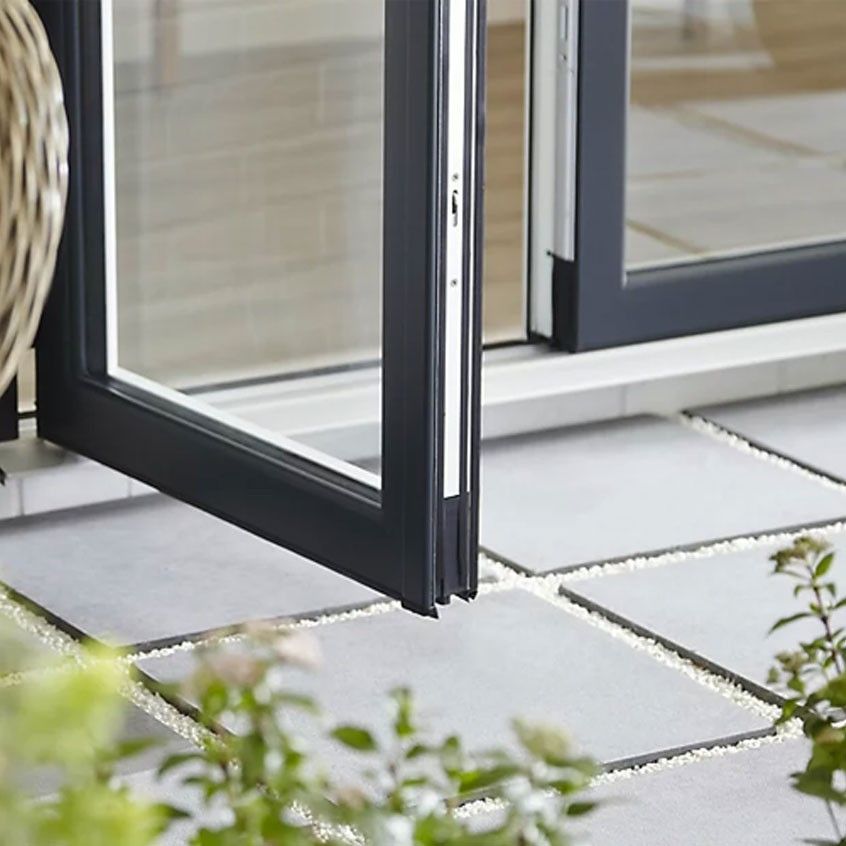 Aluminium Double Doors Elegance to your home
Aluminium double doors, with its appearance and quality beyond classical door systems, add value to your home and bring it together with elegance. With its glass model harmony, it is always met your home or office with natural light. Seeing the landscapes that change color in summer and winter providing insatiable pleasure. French doors can be used in room partitions in your house as well as in balcony and patio passages. Meeting your home to comfort with its aesthetically pleasing appearance and its hinge and lock system that provides open-close practically. Providing appearance of a spacious environment even in narrow spaces. It is made once with its high strength performance and kept quality to your home with its bright and appearance on the first day for many years. Its practical use supports energy yield that indoor-outdoor fresh air circulation. Produced in different models and color options with the expertise of Elitech, you will bring your home together easily with a door model special to your liking. You will be able to beautify your home as you wish by choosing the color of your dreams among different color alternatives such as European-made silver, anthracite and black. Click to get information for aluminium single doors. The variety of transparent or colored glass will make a great contribution to bringing your home together with elegance and you can beautify your home freely with special Elitech French doors.
Aluminium Double Doors Models With Rich Color And Design
Elitech Aluminium Double Doors Models have been developed expertly to contribute to the new trend designs of modern architecture. Each of the models in distinguished design is a candidate to meet the expectations of modern architecture in the best way. French Doors Models brings your home together with elegance, elegance and quality and gives peace to your soul. While adding value to your home with its quality, it envy your guests with its charm. Color and model combinations, where aluminium blends perfectly with colors, are gracefully reflected in all Elitech models. The detail design solutions brought by expertise are immediately recognizable with their stylish appearance. Elitech Aluminium Double Doors Models, which offer the perfect combination of glass and aluminium for full landscape view and bright spaces, are special for your home. There are also models with colored or frosted glass applications for your privacy in the glazed models. While these models protect your privacy, they also contribute to the continuation of the bright environment.
French Doors Models for patio use are designed and produced in sliding or sliding system models in the patio areas where your house opens to the outdoors. Hinged models are generally used in double door models opening from kitchen to living room or from room to room in the house. For the transitions from the house to the veranda, sliding system door models are mostly preferred in order to make the use practical and to make the best use of the space. With the doors in this model, ergonomics of use that does not narrow the interior or exterior space is gained. Opening or closing is done practically and silently with a sliding system. Closing with the locking mechanism specially developed for French Doors Models in the sliding system can also be performed very easily. You can take advantage of Elitech's expertise at any time to choose the most suitable model for your double door needs. Elitech expertise is with you for the right choice for your home in the hinged or sliding system double door model preference.
Security
Quality
Insulation
Modern Design
Customer Satisfaction
Aluminum French Door Prices with Elitech advantages
You can be sure that you will make the right choice for your home with Elitech production aluminium French doors prices, which are offered in different color and model options. All you need to do is to share your door requirement and usage expectation with Elitech using the contact page. You can contact us immediately to get an easy free evaluation and price quote. If you wish, you can also share the current status photo so that the Elitech team will assist you in a short time when you need a door in your home or office. This sharing can be extremely important when having a new door built for your home. When you use this advantageous method, Elitech will understand the needs of your space in the best way and will be able to offer you the most accurate model. Considering your budget situation, we will give you the best choice for aluminium French door prices.
Model selections determine the cost of Elitech door, which includes a large number of models. Whether the door has a hinged or sliding opening, the choice of insulated or non-insulated model, the choice of accessories are factors that affect the price. For example, if you are going to use your door for a transition between the living room and the kitchen, the price of the door will be more economical and there will be no extra insulation application required. French door models with sliding system will be more accurate for balcony or patio transitions. Since the door applications in this place bring the house together with the outside, it will also need insulation application. For this reason, special EPDM wick-like applications will be made for insulation. Contact Elitech for the right choice and budget advantages with all th7e detail alternatives. With Elitech expert door solutions, you can always buy the best quality at the most advantageous price. You can be sure that you will meet with advantageous prices. Elitech expertise with after-sales services will be with you during use.
Aluminium Double Doors Properties
Elitech aluminium double door produced with superior qualities by using European manufactured materials in international standards reflects the superiority its modern architectural design in all the models. In all closed and glazed models, high quality is immediately noticed in all details of the accessories. It makes it easier to offer site-specific solutions with profile and frame thicknesses. It provides the best user comfort with the perfect harmony of aluminium and glass in all glass models. It meets original production demands in the best way with RAL color options that allow special selections. Painting is carried out during the profile production phase with a special firing system so that used safely for many years with the vitality of the first day no deformation. It can be produced in special models for interior room transitions, patios and main exits in houses. Likewise, special models can be produced for use in the main entrance doors and interior room partitions of offices and commercial enterprises. Hinges that preferred in models working with hinged opening system are preferred from elite productions as to provide long-lasting ergonomics so can be used without losing that its form by repeatedly open-close.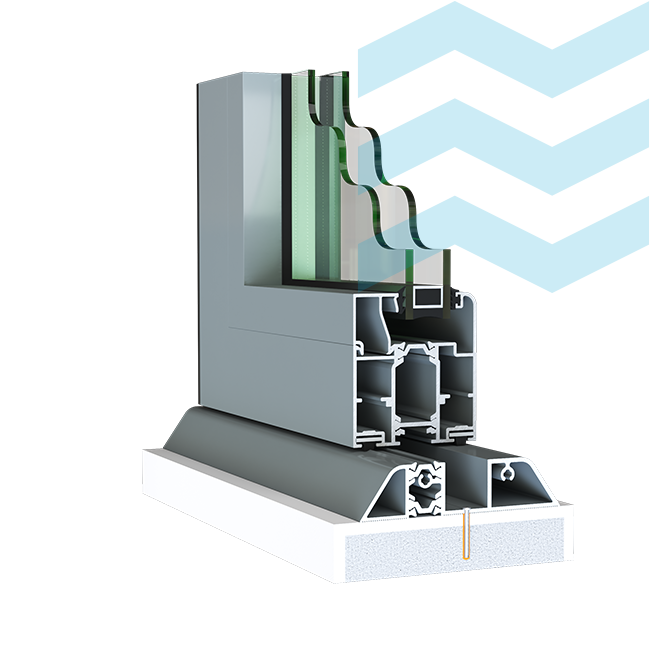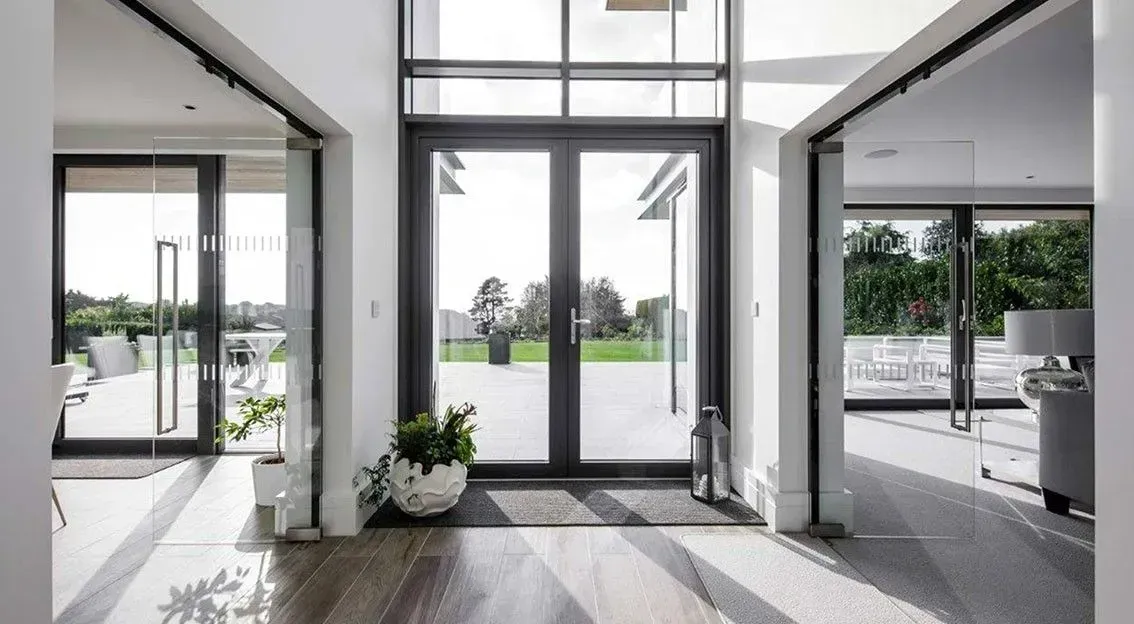 Which Aluminium French Doors Are Right For You
Sliding French door models made by supplying from elite production brands that produce rails and other accessories used in the operation of the sliding systems have superiority quality. You will be very pleased to contact Elitech to choose the most suitable aluminium French door model for your home or office. Because Elitech has a wide selection of models for interior, patio and main entrance doors that you can choose according to your taste. Contact Elitech now and get the best help in choosing the right door model for your space. Moreover, by providing profit to your budget with attractive price advantages.
Aluminium French Doors What Are The Advantages
Elitech French doors, designed with Elitech expertise and produced in modern facilities, are applied with the best workmanship. For this reason, Elitech doors provide the best user comfort with the advantages of design, production and application superiority. It provides peace of mind with its aesthetics, safe profile and lock quality performance. With its insulation superiority in the main entrance and patio doors, it contributes significantly to energy savings. It provides the best solution for bright spaces by facilitating light management with its transparent and colored glass applications. The doors suitable for using residential and office as well as special buildings projects are produced with Elitech expertise.
The main entrance doors are based on building safety along with aesthetics. While it adds richness to the building with its appearance, it gives peace to the building owners with its secure locking system.The accessories used in aluminium French doors provide comfort in every use with their quality and application superiority. It provides the pleasure of using it with its first day's practicality without requiring maintenance and without deformation for many years. It is very easy to clean the doors produced with the use of aluminium special painted profiles. It does not wear out in all cleaning applications using surface cleaners with dry or damp cloths and is easily cleaned without leaving any stains. The very lightness of aluminium together with its strength makes a great contribution to practical use. It provides full protection contribution to environmental values with its 100% full conversion.
FAQ
If you wish, Elitech teams can give you the service you need in terms of installation and assembly.
It is possible to order the door with the most suitable size for your area.
Since Elitech family uses the highest quality locking systems, its products are quite safe.
These doors are very durable. Therefore, you do not need to worry about the lifetime of these doors.
If you fill out the dialog box on our website, our team members will contact you and give you information on the subject you want.