Open closed spaces to unlimited freedom with the Elitech balcony closing system. Innovative models are the best solutions for unlimited view enjoyment in homes, balconies, cafes and restaurants, indoors in full light.
Balconies in houses with modern architecture are a good idea designed to satisfy the longing for open space. Every time a person is bored in the interior, he wants to throw himself into this open space and relax, inhale the clean air. However, on cold or rainy days, this pleasure is always interrupted. One cannot step into this beautiful place with the fear of getting cold or wet.
Balcony closing system was specially designed to eliminate all these negativities. On the balconies where this innovative application is made, the pleasure of the balcony continues without interruption, even if it is raining cats and dogs. The same comfort continues regardless of the transition of the season.
The balcony closing system also stands out with its flexible application solutions. In the design of the system, the best use was made of the opening of the windows. Thin profiles that do not narrow the viewing angle hold the safe glasses together. The windows are produced in different types such as sliding, horizontal sliding, guillotine opening, sliding folding, and easy opening and closing is given priority in every design. On days when the weather is cool or rainy, these windows are closed completely or locally to maintain a comfortable environment inside. There are no obstacles between you and the unique view, except for the glass, which does not make itself noticeable thanks to its transparency. In open weather, the closed windows are folded to open the interior to healthy air circulation.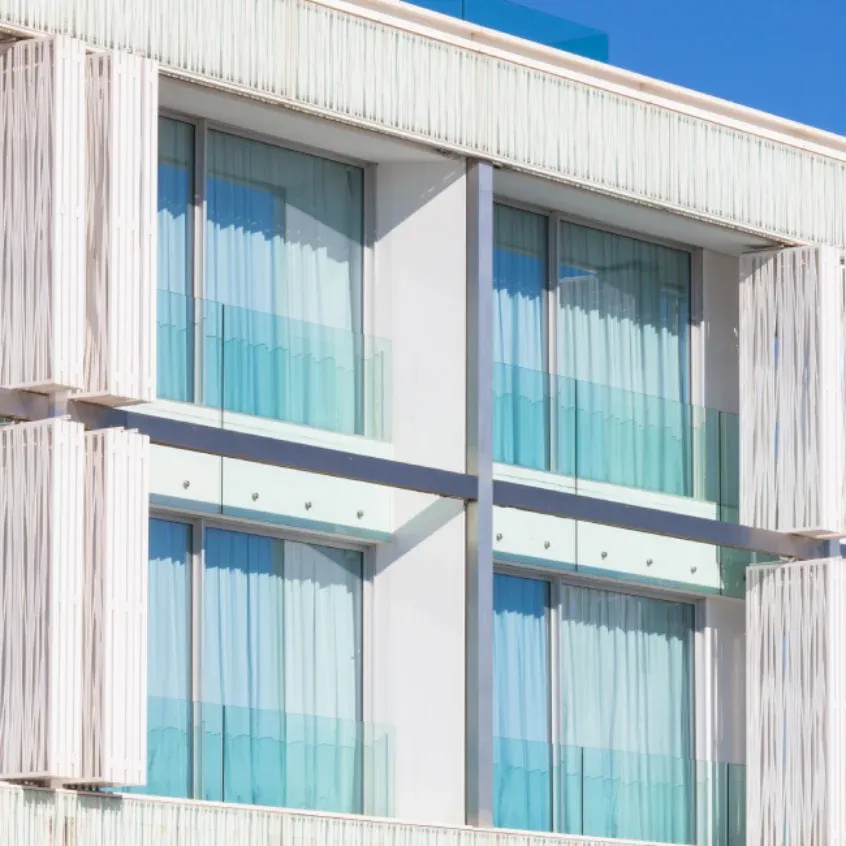 In addition to houses, commercial businesses such as cafes and restaurants provide special spaces for their customers with the balcony closing system. Glazed partitions offer an attractive alternative to customers who are bored with the dimness of the main hall covered with closed walls. On a nice day, while having lunch or sipping coffee with friends, this special atmosphere turns into a favorite place for those who enjoy it. It is very good to come to this special place and chat with friends whenever possible. At the same time, it offers the opportunity of a bright place for business meetings where privacy can be protected. Investors who turn their businesses into attractive ones with the Elitech balcony closing system, enjoy more profits by hosting more customers. It always brings businesses together with natural light by opening it completely in hot weather and closing it in cold and rainy weather.
The balcony closing system applied to the balconies also makes a great contribution to the protection of privacy. When closed with its insulated system, it completely isolates the sound. It prevents conversations from being heard outside the balcony. Likewise, it does not let in the noise caused by passing vehicles, and it prepares a quiet environment with natural light.
Impact and harsh climate resistant Aluminum Doors, Aluminum Windows, Aluminum Sliding Doors, Aluminum Single Doors, Aluminum Folding Windows, Aluminum Side Hung Windows, uPVC Doors, Folding Doors, Single Door, uPVC Windows, uPVC Side Hung Windows, uPVC Sliding Windows, We have Automated Systems, Aluminum Garage Doors, Roller Shutter Door, Frameless Glass Solutions, Balcony Closing System, Frameless Glass Door, Security Doors models. Our different models and designs are very functional and useful. You can spend time in your home in safety and comfort with the steel doors that we produce very safe against theft.
The models have been designed considering the purpose of use as well as the place of use. Balcony closing system models include sliding glass systems, horizontal sliding systems, sliding folding glass systems, automatic guillotine glass systems and railing systems. In these systems, there are also low threshold glass system applications with thermally insulated and non-insulated alternatives.
Elitech models, supported by European profiles and accessories, provide comfortable living spaces wherever they are applied. With its safe special-thickness tempered glasses, thin and solid profiles that do not narrow the viewing angle, and silently running rail and sliding systems, it provides pleasant use to any place where it is preferred. The balcony, being the most inefficient part before the application, turns into one of the most useful and favorite rooms of the house thanks to the application. It creates an insatiable place where family conversations can be enjoyed together with the unique view.
With the best equipment in the production of insulated models, special EPDM gaskets and closing brushes are used in insulated models. From the moment it is applied, the system works without any maintenance for years with the best functionality. Elitech after-sales service will continue to be with you in case of any problem.
You will find the most suitable model for your home among balcony closing system models. Turn your balcony into the most enjoyable place that you can use not only on hot days, but also in all seasons, regardless of rain or wind. Watch the rain falling on the ground and the wind shaking the tree leaves with the best viewing pleasure.
Create places with natural light that will add pleasure to your customers by having this system applied in cafes, restaurants and social facilities. Provide them with a wonderful, chirpy environment for them to have a good time even in rainy and cold weather. Let your business, which has panoramic views from every angle, become your customers' favorite place. Earn more by hosting more guests every day.
Security
Quality
Insulation
Modern Design
Customer Satisfaction
Balcony Closing System Prices
Elitech glass balcony systems have the best designs and are produced in modern facilities using profiles and accessories made in Europe. Balcony closing system prices maintain its advantages for many years with its many advantages such as ergonomics of use and trouble-free operation without maintenance. It brings comfort to everyone who uses it by giving unlimited viewing pleasure to unique landscapes.
The products, in which high strength aluminum and stainless connection equipment are used for the profiles, maintain the aesthetics of appearance with the beauty of the first day for many years. Balcony closing system prices, where you will experience the best comfort in each model, are shaped according to the size of the balcony and the preferred application equipment. First of all, we recommend that you contact Elitech expert customer representative in order to have the right model choice for your balcony and commercial space with price advantages suitable for your budget. The expert customer representative will prepare the individual size and the most accurate application alternatives for your place and present them to your liking. Moreover, measurement and pricing services are provided free of charge.
You can get detailed information about the most suitable balcony closing system prices for your balcony by taking advantage of Elitech's free measurement and price service.
Balcony Closing System Design
Elitech designs are among the most useful glass balcony systems that provide your home with aesthetic and functional use along with full light. Exclusive designs bring comfort to every place where it is applied, no matter whether it is sliding, folding or sliding systems. The best view presentation aimed in the design is complemented by the use of glass with the thinnest profiles and maximum aperture in production.
With innovative designs, the balconies are closed with the advantage of glass, making it the most comfortable place of the house even on rainy and cool days. With the designs developed for commercial use, many businesses such as cafes, restaurants, hotel lobby, social facility halls have been provided with indoor spaces in natural light. With the glass balcony system, closed spaces in natural light have been provided to commercial enterprises with aesthetics.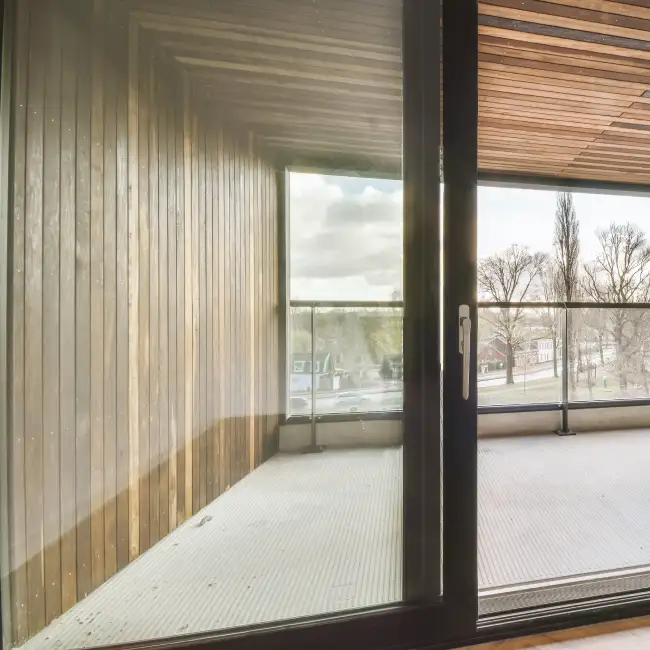 Which Balcony Closing System Right For You?
You can contact Elitech customer representative at any time to get free information about the most preferred glass balcony systems that will turn your home's balcony into a privileged room. Friendly and professional customer representatives will be happy to assist you. Among the many exclusive models, there are also glass closing solutions for your commercial businesses such as cafes and restaurants.
Balcony Closing System: What are the advantages?
The most suitable glass balcony closing systems designed for balconies and winter gardens are special for different expectations with Elitech advantages.
Even when it is closed, with its flexible usage solution, it provides unlimited landscape freedom in every season wherever it is applied. Panoramic view widens the viewing angles with the advantage of looking. The balcony provides pleasure in every season and turns into the most preferred bright room of the house.
Elitech makes you feel the silence when the windows are closed. It closes your balcony to the sounds that occur outside, especially from cars. Likewise, it protects your privacy by not letting your inside conversations being heard from outside. It works silently with special gasket and hidden brushes. It does not allow the wind and rain to enter and disturb the people in the place.
With the advantage of the sliding folding system, cleaning is very easy. Every point of the glass and profiles can be reached easily by folding, and the resulting dust is easily cleaned.
Wide-opening windows are supported by the thinnest but high-strength aluminum profiles, and the viewing width is achieved in the most perfect way.
With its special lock system, it provides full protection for children from the inside and creates security against unwanted guests from the outside. Special laminated glasses are used safely for many years.
It can be easily applied with different designs on balconies, no matter whether it is oval or flat.
It maintains its aesthetic and functional use for many years. With its durability, it does not require maintenance for many years and saves costs. It provides savings by reducing energy costs thanks to the balcony insulation.
Tempered glasses in special thicknesses with full safety were preferred in the designs, and aesthetic expectations were met in the best way with different color options. With the use of aluminum stainless profiles and accessories, the best resistance has been gained in accordance with different climatic conditions such as rain, cold, extreme heat and humidity.
The comfort of use in the design is supported by reinforced rail equipment that works silently, and an extremely practical and silent system has been created. Insulation expectations are best met with the use of special gaskets and equipment.
We recommend you to take advantage of Elitech's free measurement and price service for models with high aesthetics and comfort that will provide the balcony of your home and your commercial business with the best design.