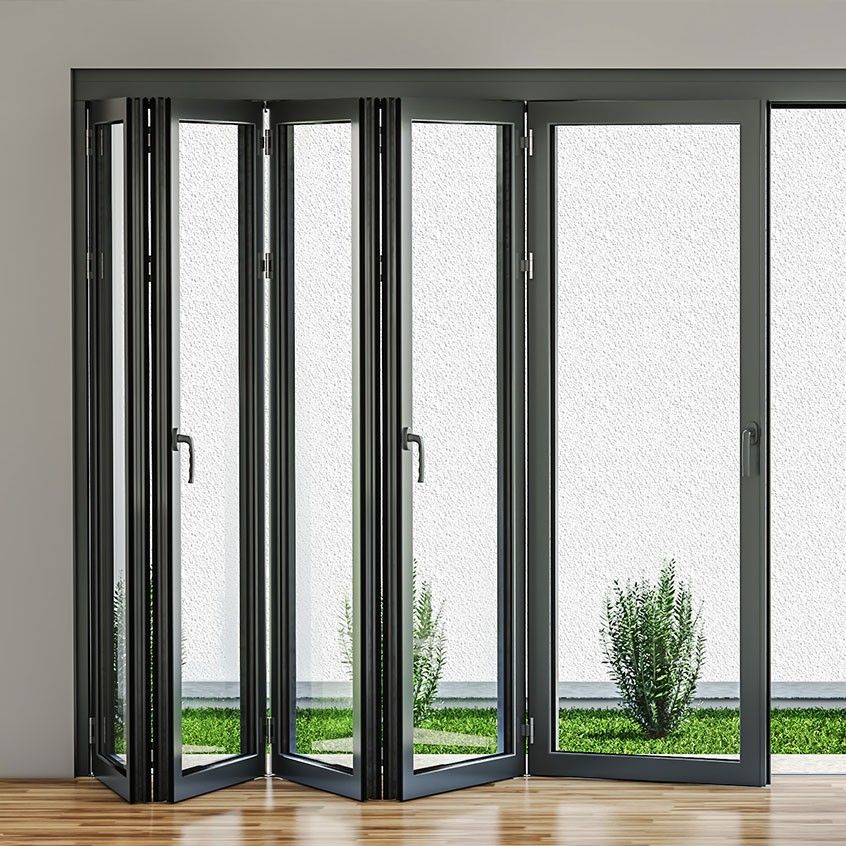 Aluminium Folding Doors
It is now very easy to make more space for yourself and bring more comfort to life by bringing your home together with the outdoors. Bring your home together with bright natural light with aluminium folding doors and say hello to a spacious and cheerful life. Integrate with beauties by freely opening your home to the garden that provides clean air surround whenever you wish. In the spring and summer months, the beauties of the garden shouldn't be missed ever before your eyes. Folding sliding doors are easily closed whenever you want and continue to make your home comfortable with their brightness. Folding stacking doors, each designed and developed with Elitech expertise, gets value and beauty to your home with special apply options.
You can be sure that meeting with high-strength aluminium folding doors will make you very happy. The wonderful view and comfort of use designed by the integration of durable aesthetic-looking aluminium material with glass will make your home special. You can also make the combination you set up with your garden in the partitions inside your house. Elitech bifold doors are the best solution to freshen up the interior, too. Click to get info for Aluminium Double Doors. By that the model, you can easily combine the living room and kitchen using this system whenever you want.
Security
Quality
Insulation
Modern Design
Customer Satisfaction
Aluminium Folding Doors Prices
Among the rich model options, a special solution for your home will be the best decision to take advantage of aluminium folding doors prices suitable for your budget. We strongly recommend that you take advantage of Elitech's free discovery expertise before making a purchase decision. Elitech tries to understand your expectations in the best way by seeing your place in person and helps you with the best solution for your place, taking into account your budget. You can have the best of the double door models and your home without sacrificing quality at special prices for your space and budget. With the model design, production and application advantages, once you get it done, you can use it safely for many years without any problems.
With Elitech aluminium folding doors prices, you can have no doubt that you will make the right choice in a competitive environment. Own the best sliding door system with ergonomics, quality and application advantages, feel comfortable. All models are an integral part of modern architecture and aim to provide the best comfort. Buying the best quality with the most attractive price advantages will give you peace of mind. All kinds of details, including assembly, are included in Elitech aluminium folding doors prices.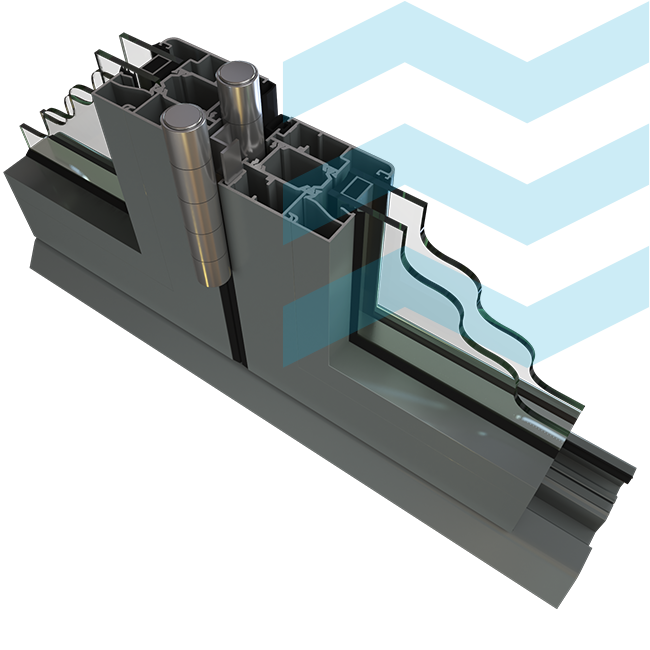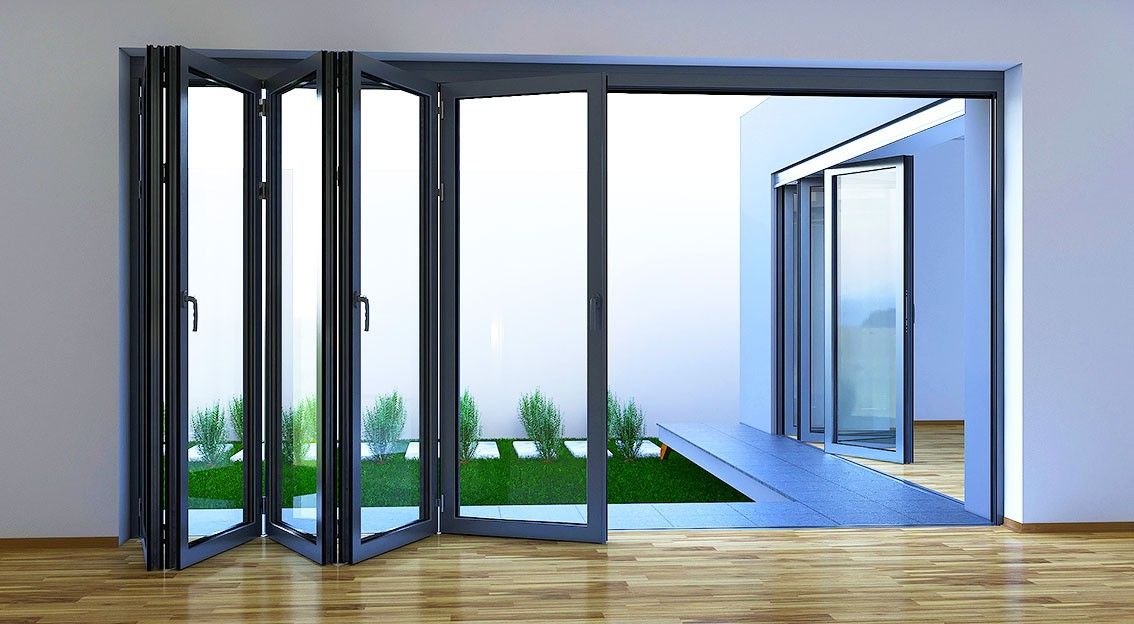 Why Would You Choose Aluminium Folding Doors?
Speak to an architect or designer and they will tell you that aluminium folding doors can complement just about any design. These products simply bring a fresh and highly pleasing visual experience to any interior space which simply cannot be equaled that easily with any other product. While you will have the best with the right choice, you will also experience the advantages of on-time delivery. With its trouble-free use, quality product enjoyment will never be missing. Production starts with your approval after the project specific to your space.
Aluminium Folding Stacking Doors What Are The Advantages
Elitech aluminium folding door system, which is produced in a special size for your home and delivered with a ready-to-use assembly application with all its equipment, has many advantages. In addition to its high strength, light aluminium facilitates practical use. It adds elegance, quality and value to every place where it is applied with its aesthetic modern appearance in homes and offices. It is used for years with its long-lasting durability and always maintains the vitality of the first day's appearance. It contributes to the security of residential and commercial spaces in the best way with its profile strength and special lock accessory applications. Aluminium profiles, glasses, accessories are produced in accordance with the project with every detail. Rail systems, hinges, lock systems, fixing equipment. Insulation gaskets come to your home ready for installation.
Elitech is always ready to offer the right choice for you with its European-made aluminium materials, glass variety and exclusive accessories. It is delivered ready for your use after assembly, which is carried out with the meticulous workmanship of Elitech experts. It integrates with the glass in all models and illuminates the spaces with the introduction of natural light. It continues to illuminate spaces by facilitating the control of light with reflective glass applications. With the combination it prepares, it brings pleasure to the places where it is applied. When opened, it combines the interior with the garden, and when closed, it facilitates air conditioning with its insulation performance. It saves budgets with natural lighting and energy saving. The energy gain is immediately noticeable with the low expenses reflected on the invoices. With the ready-to-install production system, it is easily available in every place where it is installed, without experiencing the construction processes. Assembly progresses very quickly with the ease of production detail solutions. It is very practical to open and close. You can turn it on and off in seconds whenever you want.
FAQ
If you wish, we can give you the service you need in terms of installation and assembly.
It is possible to order doors with the dimensions you want. What matters is what you want.
You should not worry about the safety. Because we prefer high-quality lock systems in all our windows and doors.
Yes, these door are quite durable. Because we use the high-quality materials for these doors.
You can contact us via mail or phone, you can get information on any subject you want.
Which Aluminium Bifold doors Are Right For You
We have no doubt that Elitech aluminium folding sliding doors will add value to your home. Elitech expertise is with you with the most advantageous price offer in order to beautify your spaces and bring together natural light and comfort when you need it.
Aluminium Folding Doors Models
Elitech, the leading manufacturer of the sector, offers aluminium folding door models that will add value to your home. Open your home to the light with models that have the privilege of aesthetic appearance and ergonomic use with a modern architectural design concept. Experience the freedom of the interior refreshing space to the fullest.
Folding sliding doors are specially designed to connect the interior with the garden and patio. The same function can be maintained by using the same comfort in places such as restaurants, social facilities and private offices. Starting with bifold doors models, it has a rich application variety with 5 and more folding options. It can be produced by designing in special sliding or folding door models for the place of use. It has the advantage of being used anywhere with a wide span of up to 6 meters on average. Aluminium folding door models for wider openings provide ease of analysis with extra column support. It offers the most ideal solution for winter gardens, as it facilitates the preparation of bright indoor areas with the best openness with glass. It is very easy to use with its manageable air conditioning feature in residences and restaurants. For example, during a sudden rain, it can be turned off in a short time and the rain can be watched with pleasure.
The models developed for patio doors meet the bright door expectations in the best way. With the expertise of Elitech, the most suitable special design for your home is prepared by taking the size of your patio. Double-wing door models are mostly used in patio passages. The entire patio can be closed with a fixed, sliding and folding system. The double wing model is also preferred in domestic partitions. It can be applied between the kitchen and the dining room or between the rooms. With this application, while the interior of the house gets a bright environment, life becomes easier with functional use. Although it is not preferred much in the interior of the bedroom, it is requested for a practical transition from this room to the backyard.
Among the aluminium folding door models, solutions are also offered for restaurants, shops and offices. Models have double-wing doors with the option to fold in or out, depending on preference. Modeling is done with the aim of preventing raindrops from entering during the first closing in models directly connected to the interior. Aluminium folding door models are supported with special accessories, and there are different applications such as fixed, sliding to the right and left, folding system, low threshold, top hanging. You can benefit from free suggestion support by contacting Elitech for folding sliding doors models specific to your space.
Aluminium Folding Sliding Doors Properties
Elitech modern architectural designed aluminium folding sliding doors are produced with the use of European profiles and accessories and have superior features. It provides the best user comfort with every detail from aluminium to glass, from lock to rail systems, from sliding arms to hinge accessories. It has advantages such as long-lasting use resistance, practical and silent opening and closing performance. In all patio, garden and indoor uses, folding sliding doors make the best contribution to the preparation of bright environments. It creates a refreshing environment for everyone who uses it by bringing together the natural light and brightness of homes and workplaces.
All models can be prepared in site-specific dimensions. Standard doors provide an advantage to the budgets with their price efficiency. With the use of a model-specific lock system, it gives full security to every place where it is applied. Sliding systems are equipped with locking mechanisms from different points. With its folding plug-in system, it does not allow outside interventions. Accessories that complement the model in the door and slider arms are especially preferred. The handles are an important supporter of the lock system. Conttage Pane Doors Click Now There are different colored arm accessory models for optional selections. Slide rails and steel wheels are specially selected for smooth and silent operation. While helping practical opening and closing, it is used for many years without deformation.