Special quality industrial fabrics are used on the visible surface of the system and it has models suitable for all tastes with its distinguished colors. Other mechanisms and accessories contribute to the smooth operation of the system in the best possible way. Motorized blind with user-friendly control management panel completely eliminates the difficulty of opening and closing conventional curtains. With the control system, the curtains are opened at desired intervals and the most comfortable use is gained. The remote has various control options and home-specific usage setting alternatives. It brings home and workplaces together with a modern aesthetic appearance.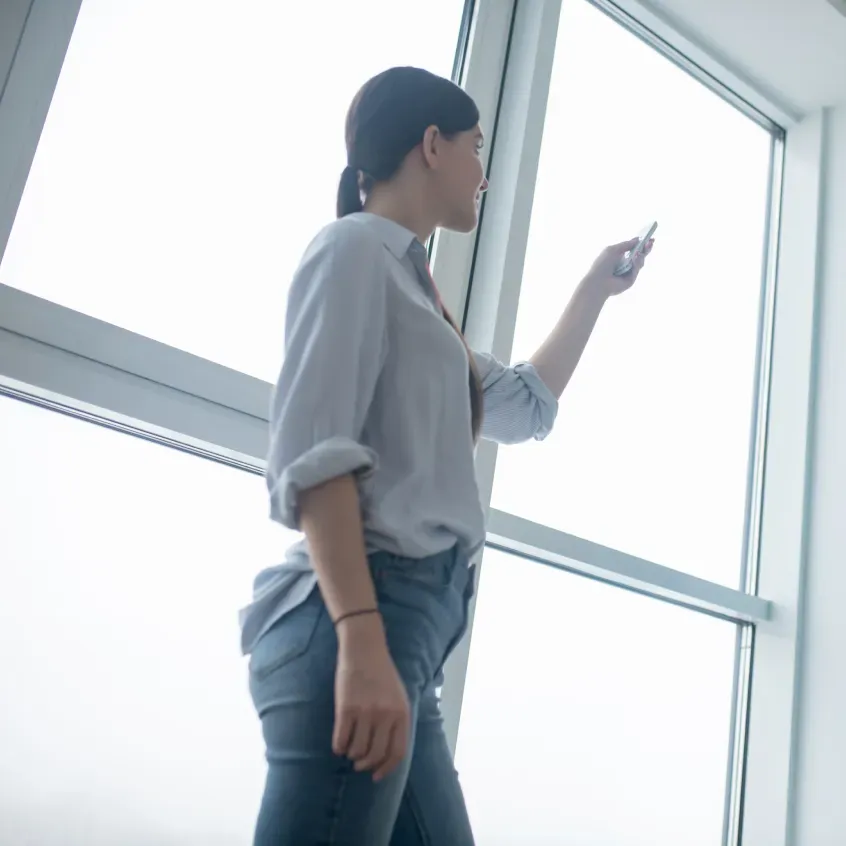 Motorized blind is designed for home and commercial use. With shading in areas such as verandas, pergolas, terraces and balconies, it is easily prevented that the sunlight overheats the environment with the glass. It makes air conditioning easier by shielding the sun's heat even in the hottest weather.
The motorized blind makes the lighting management of the house smart. The comfort of use turns into a separate pleasure. Turning of sunlight into excessive heat is easily prevented by curtain automation. Always bring comfort with functional ergonomics by using smart curtains in your home and office. Natural light enters your home all day long, filtering out excessive heat. With the special system that filters the light, the motorized blind brings the interior of the house together with natural light, without allowing the negative effects such as overheating.
Impact and harsh climate resistant Aluminum Doors, Aluminum Windows, Aluminum Sliding Doors, Aluminum Single Doors, Aluminum Folding Windows, Aluminum Side Hung Windows, uPVC Doors, Folding Doors, Single Door, uPVC Windows, uPVC Side Hung Windows, uPVC Sliding Windows, We have Automated Systems, Aluminum Garage Doors, Roller Shutter Door, Frameless Glass Solutions, Balcony Closing System, Frameless Glass Door, Security Doors models. Our different models and designs are very functional and useful. You can spend time in your home in safety and comfort with the steel doors that we produce very safe against theft.
Somfy brand motors, which are the best in their field, were preferred in motorized blind models produced with Elitech expertise. Models installed by Elitech experts are very easy to operate. The wireless fully rechargeable motor system is supported by a control system for ease of use. It can be upgraded to smart home technology from mobile phone and tablet by integrating with applications that work with android and ios systems apart from the remote control. Curtain opening and closing management can also be performed with voice commands in smartphone and tablet applications. You can safely open and close the curtains even when you are not at home. The wireless usage feature of the electric curtain system creates a great advantage. It provides extra security, especially for children, the elderly or pets at home.
You can make your use unique by customizing the opening and closing of your motorized curtains. With the usage module you will set, you can automatically perform the daily movements of the curtain. Bring your home together with natural light in the combination you want with modern curtain systems. Perform the opening and closing of your curtains with the program most suitable for your home and family.
Security
Quality
Insulation
Modern Design
Customer Satisfaction
Motorized Blind Prices
With its modern appearance and comfortable use, attractive motorized blind prices will add elegance and value to your home. By choosing Elitech electric curtains, both beautify your home and do not compromise on quality. Electric curtains, which are produced entirely from European accessories and fabrics, with the use of the best brand Somfy motor work without any problems. Experience continuous comfort with the value it will add to your home, its silently-controlled working model and its practical use.
Elitech will save your budget with its advantages of motorized blind prices. It will add value to your home with its quality modern appearance, innovations and most importantly reasonable prices. Do not worry about size and installation. Elitech expert takes special measurements for your home and recommends the most suitable models for your budget and leaves it to your choice. The curtains you order are produced in modern facilities using the best motors and quality materials. It is assembled in your home in a short time with Elitech experts and presented to your use. You don't have to organize extra installers or electricians. Expertly taken measure provides full coverage for windows or other usage areas. It cuts out the sunlight whenever you want while protecting your privacy in the best way possible. Since it is specially sized to the full window area, it does not prevent the placement of furniture-like items on the window sides of your room.
Once you get the electric curtain made with Elitech quality, you can use it for many years without any maintenance. Since the fabric and mechanisms are of the best quality, they work with excellent performance for many years. Used without wearing out, it saves you from the costs of classic curtains that you will have to change in a short time. While bringing comfort to your home, it provides profit to your budget. It makes it as easy as pressing the button of a remote to open and close the curtains of your home in the settings you want.
Exclusive colors that will add beauty to your home, innovative model alternatives and motorized blind prices special for your budget are special to your liking with Elitech advantages.
Motorized Blind Designs
Elitech models are among the most useful motorized curtain designs for your home, produced with a modern style, European silent engine and the use of materials. Exclusive designs have been specially developed to provide full protection to the privacy of your home and easily controllable lights. With the advantages of flexible design, all models are produced according to the size of the preferred space in your home or workplace. It provides a perfect solution for shading and sunlight control by providing full coverage without any opening in the applied area.
The control system is specially coded and provides ease of control over 10 curtains in the same house or office. The curtain-specific motor is hidden behind the collection roller and works silently without being seen. The wireless charging solution has dramatically modernized the curtain design. In the curtain areas, opening and closing is done practically with device applications such as remote control or mobile phone without the need for wiring.
Now is the time to choose the most useful Elitech curtain designs for your home. All you have to do is contact our friendly customer representatives and benefit from free measurement and price service.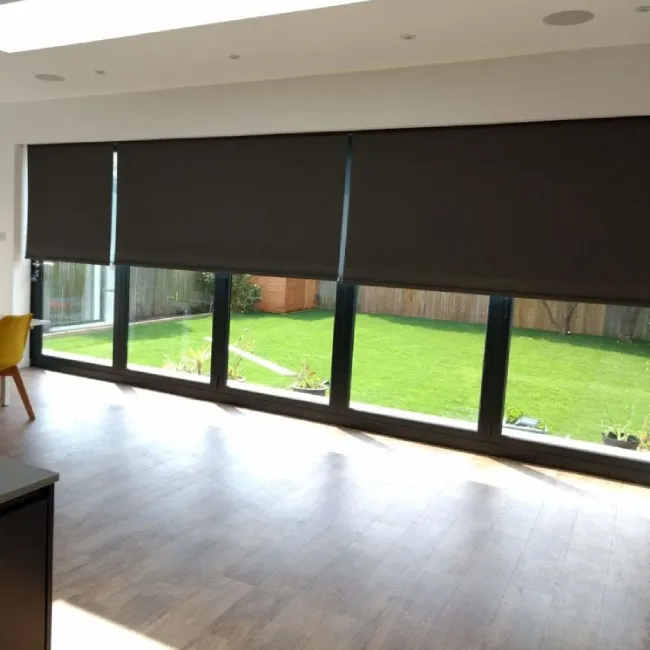 Which Motorized Blind Right For You
Now is the time to experience uninterrupted comfort by bringing your home together with the most preferred motorized curtains. It is enough to contact Elitech for the best quality, trouble-free elite models.
The friendly customer representative will take special measurements for your home and recommend the best models that will make you feel comfortable. Moreover, you will have the best curtain in functional use with special price advantages for your budget.
What are the Advantages of Motorized Curtains?
Experience many advantages together by choosing the most suitable curtain models for your home. Bring comfort to your home with a modern look.
There are many reasons to choose Elitech electric curtains.
Make your home or office curtains both beautiful and comfortable by choosing electric curtains. You can open or close it as you wish by touching the control button without getting up from your seat. Turn comfort into passion by experiencing the perfect curtain system that works silently. Take the brightness under your control by programming every hour of the day according to your taste. Block out the harmful rays of the sun, but let the light in. Best protect the privacy of your home in the evening.
Elitech curtains add a modern look to your home with their special fabrics. When opened, it is collected regularly in the roll above, opening the windows of your house to unlimited view.
Curtain fabrics include alternative fabrics to filter light from dark to transparent. You can choose the best curtain for your needs. While full darkening can be done on dark model fabrics, sunlight control can be performed in the best way in transparent models.
With the remote control, it can be used with a special application on devices in android and ios systems in optional preferences. You can control your curtains remotely with mobile phones and tablets. Life is very easy with Elitech curtain models.
Quickly open and close all or some of your windows with a single remote as you wish. Save time and at the same time take care of your comfort and convenience.
By integrating the system into the lighting fixtures in the room, you can make your curtains open and close automatically with the light. Easily protect your private life privacy.
All Elitech curtain models, in which Somfy motor technology is used, operate silently. It is used comfortably for many years. The motors are hidden in the upper roll panel and run unseen.
Elitech has a system that does not need curtain wiring. It is safe to use for children, the elderly or pets in your home.
With the touch of a button, you can easily open and close your blinds without getting up.
Elitech curtains are produced in special models for your selection by taking measurements on site by experts upon your request. It is applied ready for your use by our expert assembly team and presented ready for your use.
With its after-sales support services, Elitech is always with you with its support in your use for many years.