Casement Windows: 5 Reasons They Have Become Popular
If you want your home to look stylish and at the same time have a versatile window, casement windows are for you. Cheap windows can cause you a lot of problems, and that's why you should be careful when choosing windows such as uPVC doors or windows.
Do you want folding doors for your home or casement windows similar to these models?
Here are 5 reasons to have these at work.
The first reason is that they are the best choice for ventilation. Because they have the ability to open up to 90 degrees, they are a very good chance to cool down in the summer or to ventilate your house in a spacious way. Thanks to their wide opening curve, you decide which window you want to open in which way. You can easily provide the maximum air flow at your request with the help of these windows.
The second reason is that casement windows provide us with unobstructed views. Due to the fact that aluminum is a strong material, the frames have the ability to hold even large glasses. With these large windows, you can easily see a snow landscape in winter or even an unusual species of bird that comes in front of your window. Because the windows are large, this will also make your room look larger. Casement windows can be the best corner of your home with their eye-catching designs.
The third reason is the absence of drafts and heat transfer. it is sealed to ensure that there is no heat and leakage, and has superior heat retention. Thanks to the properties of aluminum, it is the best choice for keeping heat. It is comfortable in winter and cool in summer. This allows you to significantly reduce heating and cooling bills, especially in a year together. Since it is weather resistant, it allows you to use it for many years.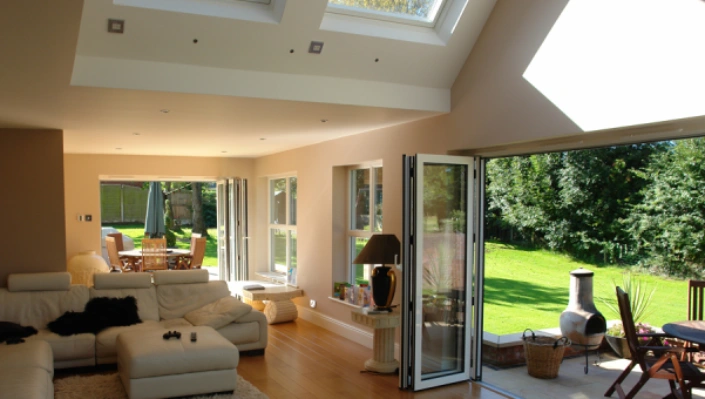 The last and fourth reason is that it has unlimited color and model options such as aluminum folding doors. Despite the fact that there is a belief that aluminum is only silver, it has many color options. According to the customer's request, the coating can be made in the desired color and tone. It is one of the easiest substances to paint or coat. It means that you have many chances to make a choice. Thanks to the coating, it has a longer service life.