The Elitech steel security entrance door with its steel main carcass, special pattern coatings, special locking mechanisms that provide complete security from different points is the best for your home. Save money from your budget while providing the best protection to your home.
This special door selection, which is constantly visible at the entrance of your house, is very important from an aesthetic point of view along with security. It should appeal to the eye taste with its appearance while providing full protection for the security of your home. Guests who come to visit first see the steel security entrance door and they have the first impression about your home. Elitech security doors make a pleasant impression on your guests with their elegance. Their beautiful appearance and comfortable use also turn into happiness in you.
Special processes are carried out in terms of security and aesthetics in the production of Elitech steel security entrance doors. For the best security, monolithic profile steel is preferred for the doors. Monoblock galvanized steel of a special thickness of 1.2 mm is used on the front and back of the main wing where the door is opened. The combination of these two steel parts, which stand out in door safety, takes place by passing through a special high-tonnage press.
Surface patterns that give elegance to the steel security entrance door are shaped in one go with the application of a 900-ton print press on a one-piece steel plate. After this process, motifs appear in the perfect appearance and decorate the doors.
Steel door wing sizing is carried out in special machines working with precision cutting technology. With this system, the cutting of steel is completed perfectly without creating burrs. Unwelded hinge system was preferred for connecting the door wings to the chassis and the product was given trouble-free use for many years.
Impact and harsh climate resistant Aluminum Doors, Aluminum Windows, Aluminum Sliding Doors, Aluminum Single Doors, Aluminum Folding Windows, Aluminum Side Hung Windows, uPVC Doors, Folding Doors, Single Door, uPVC Windows, uPVC Side Hung Windows, uPVC Sliding Windows, We have Automated Systems, Aluminum Garage Doors, Roller Shutter Door, Frameless Glass Solutions, Balcony Closing System, Frameless Glass Door, Security Doors models. Our different models and designs are very functional and useful. You can spend time in your home in safety and comfort with the steel doors that we produce very safe against theft.
You will be able to easily connect your home with the best door model by choosing exclusively for your taste among Elitech steel security door models. Models that best suit modern architectural concepts are presented to your liking within the Elitech collection with color alternatives. Check out models that are secure, sturdy, long-lasting and look stylish to bring your home to the best quality.
In the new generation models, multi-point secure lock systems are placed around the door with the best design. It is aimed to give the best security to your property by locking from different points. Models include the main entrance doors of the building and special designs for the interior apartment entrances in the building.
The best steel security entrance door models are produced in modern facilities using the best choice of materials, locks and accessories with use of special production technologies. The models are designed to meet the security and aesthetic appearance requirements at the same time, as they will be used at the main entrance gates of areas such as residential buildings and workplaces. The production of the models is planned on a steel main frame for complete safety. Different coating types are applied to the steel frame that provides security to the door, giving the pattern an aesthetic appearance.
Elitech models will give your home full security with their robustness, and it will be very easy to choose the door that you will like very much with its aesthetics. Elitech doors, which you will use safely for many years, will delight you with the comfort of use.
Security
Quality
Insulation
Modern Design
Customer Satisfaction
Steel Security Entrance Door Prices
Elitech doors, designed to provide homes with an aesthetic appearance and full security, offer the best comfort to those who prefer them. They have many advantages such as security, robustness, long-lasting structure, aesthetic appearance and functional use ergonomics. Steel security entrance door prices, with their outstanding advantages, bring profit to those who prefer them. Houses meet with the safest, best-looking aesthetic doors. Everywhere they are applied, they give peace and happiness with their robustness, confidence and stylish stance.
Meet the advantageous Steel security entrance door prices that best fit the design of your home and add value to it by integrating with its architecture. With Elitech quality superiorities, you get more than your money's worth. It will make you save money with its superior quality that does not require maintenance for many years while giving you peace of mind with its fully secure system.
Opt for elitech doors and leave your security concerns completely behind. Get an aesthetically pleasing door in a next generation design with security. You can contact Elitech customer representatives directly to get information about steel security entrance door prices of outstanding design. Professional customer representatives will recommend the best models for your home and will meet you with the most advantageous price suitable for your budget.
Steel Security Entrance Door Designs
The most useful steel doors were designed with Elitech expertise to add security and elegance to the entrance doors. Innovative lines that adapt to all residences in modern architecture are available in the Elitech steel door collection. Every design you choose will add value to your home and impress with its aesthetic appearance. In the design, the steel carcass, which will provide your home with full protection against unexpected undesirable events, is hidden with special coatings. The most secure closure was achieved with multi-way locking mechanisms. Innovative designs provide elegance in their outer appearance and safe protection armor on the inner invisible part. Whichever model you choose among Elitech's exclusive designs, you can safely close your door and open it peacefully every time.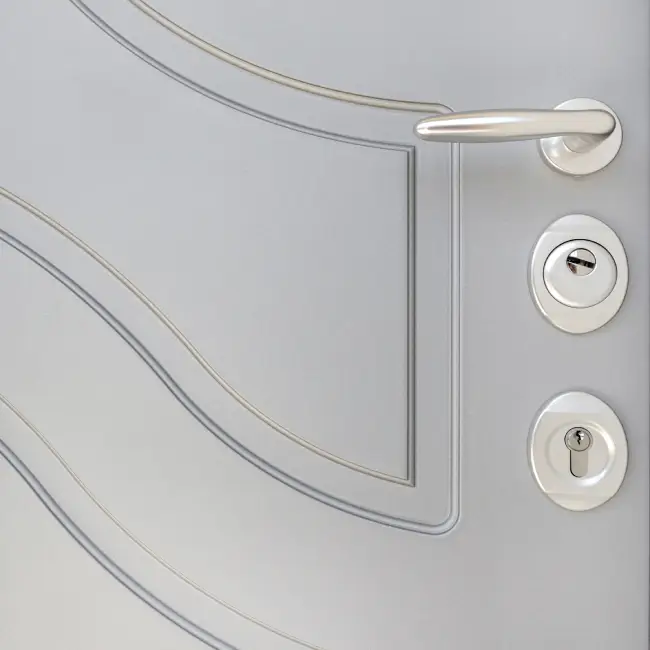 Which Steel Securty Enterence Door Right For You
Choose the most preferred steel security entrance doors to make the entrance of your home meet with the most suitable model and use them safely for many years. You can call Elitech customer representative to get information about many exclusive models and to make the right choice for your home. The friendly customer representative is ready to assist you in choosing the best door model that will make your home privileged. By choosing Elitech doors, you will have the product that you will use safely for many years with the best price advantage suitable for your budget.
Steel Security Entrance Doors: What are the advantages?
With its quality, durability, safety performance and elegance, the most suitable steel doors for your home are among the elite models of Elitech. For your full security, solid steel and galvanized metals are used in Elitech doors. Lamination coatings and paint applications on metals hold the best. Cleaning is facilitated, corrosion and wear are prevented by keeping them away from corrosion.
The opening wings of the security doors are cut and dimensioned with the use of high technology during the production phase. This process is carried out on special benches with precision technology and gives the door years of functional use. Door calibrations can be produced without errors, by performing all operations related to cutting on CNC benches with the highest precision.
Timber-like materials are used directly on metal for coating steel surfaces. With this application, perfect surface patterns with aesthetic appearance are prepared. Coating application is carried out with Elitech special bonding technology and long-lasting adhesion is provided. At the same time, the surface gains the best protection shield against scratches, making it the best resistant to impact and weather conditions for many years.
Surface pattern modeling is carried out using special press with 900 tons of printing power. With this system, perfect patterns are obtained at once.
Produced with monolithic steel profile and the use of high galvanized metals, Elitech doors have a metal thickness of 1.2 mm in each direction. These two layers, consisting of steel and galvanized sheet, are combined in the safest way as a monoblock in special tonnage presses.
Polyurethane filler with high insulation properties is preferred in the door inner filling. The applied polyurethane cells are 90 to 95 percent closed and have the best performance in perfect isolation. Polyurethane with the lowest thermal conductivity immediately adheres to the surface it is applied to and adheres in the best way. Since the polyurethane filler does not expand between -30 and +80 °C, it fully integrates with the steel surfaces it is applied to. Polyurethane, which does not cause decay and odor, does not allow the production of bacteria and prevents it.
Elitech steel door aesthetic surfaces are covered with membrane coating technology. With this application, an aesthetic appearance is obtained in different color scales.
The opening wing is surrounded by the use of a special anodized aluminum profile. Thanks to the product-specific aluminum profile, screws and rivets are hidden, making the best contribution to its aesthetic appearance.
In the accessories used in Elitech doors, the most compatible parts with the product design were chosen and they were especially preferred. The hinge used in the door opening wings is connected to the frame without using welding and provides the best contribution to trouble-free use for many years.
It is very easy to clean the smooth and stain-free surfaces. It always preserves its fresh appearance of the first day by cleaning it with a damp or dry cloth.