Aluminium Top Hung Window TH 120x120
TH 120x120 Model
Frame Thickness: 30,5 cm
Glass: 6,38 mm Clear
Colour Availability: White, Charcoal, Natural, Bronze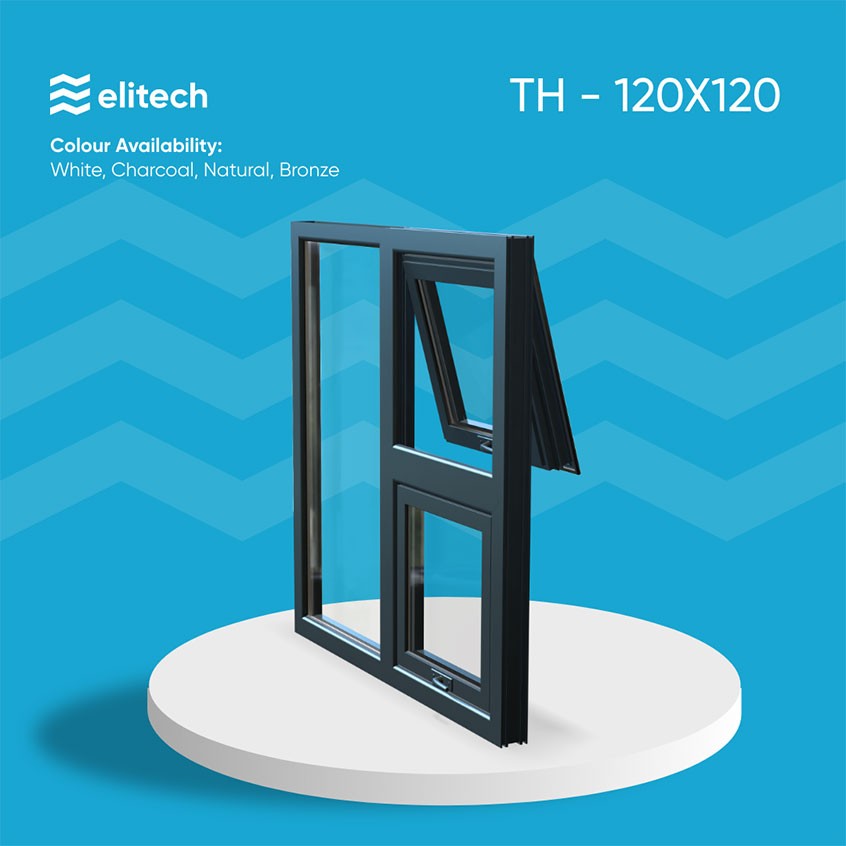 Aluminum Top Hung Window TH 120x120
The aluminum top hung window model product, which is among the products designed by the Elitech building solution brand, is on the list of the most preferred recently. Dazzling with its interesting design and stylish appearance, the aluminum top hung window TH 120*120 is a square-shaped model with 2 windows. One side of the product has 2 windows that can be opened. This product, which has 2 small aluminum windows that can be opened in a single frame, helps to ventilate your home and add freshness to your environment. It is possible to show your large areas even wider and larger with this 120*120 cm window. The image of the product is on our website. It is a model that can be used both in offices and at home and will fascinate people with its design. It is possible to find the details of the 120*120 cm product in the continuation of our article.
Aluminum top hung window TH 120*120 General Features and Dimensions of the Product:
Aluminum windows product is a product with 2 windows. It has 2 windows in the same frame. This product, which has more than one color, will add a different atmosphere to the environment. The frames of the windows, which are among the indispensable products of interior designs, are also of particular importance. For this reason, this product, which has 4 different colors, is in a different advantageous position. General details of the product are listed as Frame Thickness: 30.5 cm, Glass: 6.38 mm Clear, Color Availability: White, Charcoal, Natural, Bronze. To see the product in more detail, the technical drawing of the product is available on the website. The window dimensions of this product, which have 2 small openable windows in a single frame, are also indicated in the technical drawing. After researching the details, you can contact us from the contact information and get support for ordering the product. You can examine our website in detail for products with other models that are suitable for you.
Technical Properties
Frame Thickness: 30,5 cm
Glass: 6,38 mm Clear
Colour Availability: White, Charcoal, Natural, Bronze